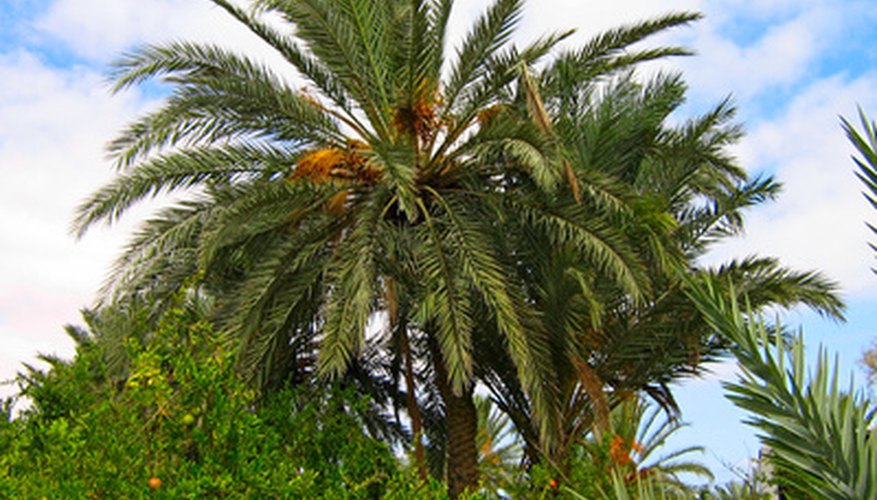 Date palm is a generic term given to many different species of palm trees. A couple of common date palms are the Medjool date palm and the Canary Island date palm. These palms grow only in the southernmost areas of the United States and need moist, well-draining soil to thrive. After planting you will want to provide ample moisture to the root ball until the palm has established itself. This generally takes a full growing season.
Dig a hole that is 3 feet wide and a few inches deeper than the root ball. Site the hole in a location that receives full sunlight.
Spread a thin layer of manure or tree soil (1/3 sand, 1/3 peat moss, 1/3 topsoil) in the bottom of the planting hole. Over this, spread a 2- to 3-inch layer of native soil.
Place the palm in the center of the hole to the same depth it was previously planted.
Mix tree soil in with your native soil, and fill in around the root ball. Water in the soil as you fill the hole to prevent air pockets.
Tamp the soil down to further reduce the probability of air pockets, and keep shoveling the mixture into the planting hole until the soil level matches the previous soil height on the palm trunk.
Spread a layer of mulch around the palm. The mulch should be 2 to 3 inches thick and cover the distance from the trunk to the edge of the palm canopy.
Water the palm every few days throughout the entire first growing season. Keep the soil moist but not soggy. Soggy roots will lead to rotting.