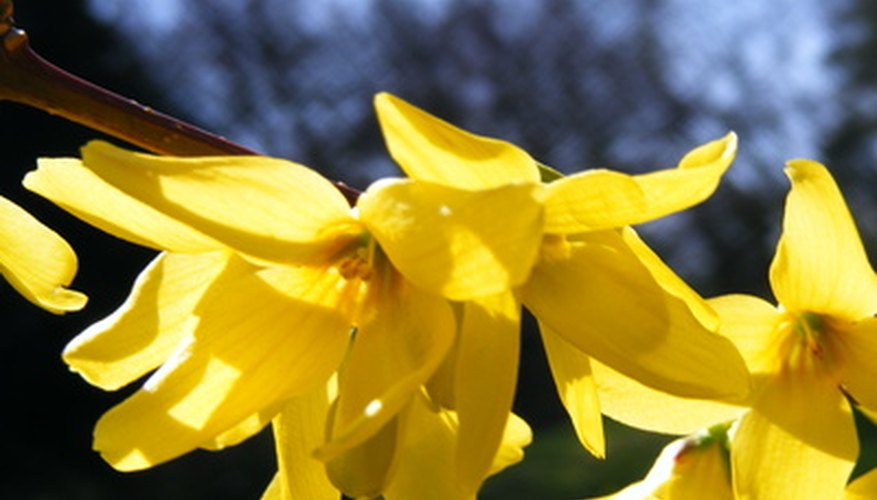 Forsythia announces the arrival of spring with a profusion of tiny yellow flowers on short upright bushes. As a landscape plant, it produces clouds of color in spring and is followed by dense green foliage that remains throughout the year. This rapid growing shrub grows a foot or more a year. When grown as a specimen plant, forsythia may be left to spread to create a mass of color in spring. When grown as a privacy screen or hedge, forsythia requires pruning to maintain its overall shape and to control height.
Plant forsythia in full or partial sun. Even though forsythia grows in partial sun, blooming is inhibited. For the best show of blooms, plant in full sun.
Select an area with well-drained soil. Forsythia suffers from soggy soil. Add plenty of organic matter to the soil to improve drainage.
Water forsythia deeply once a week to wet the soil to the root level. Watering deeply encourages good root formation. Frequent light watering causes roots to form near the surface of the soil and compromises the plant's support system.
Fertilize with 1 tbsp. of 8-8-8 (or 10-10-10) fertilizer in March before blooms appear. Repeat in May and July.
Prune immediately after blooming. Remove one quarter to one third of the old stalks by cutting back to the ground level each year. Allow young wood to grow. When pruned yearly, the entire shrub is replaced with new wood within three to four years, prolonging the life of the bush.
Trim overgrown branches that disrupt the overall shape of the bush to maintain size and shape.
Cut overgrown or woody shrubs back to the ground level to vitalize them. New blooms appear in one to two years.
Things You Will Need
Organic soil amendments

Fertilizer (8-8-8 or 10-10-10)

Pruning shears
Warning
Do not prune forsythia after mid-summer as it will prevent blooms the following year.
Resources