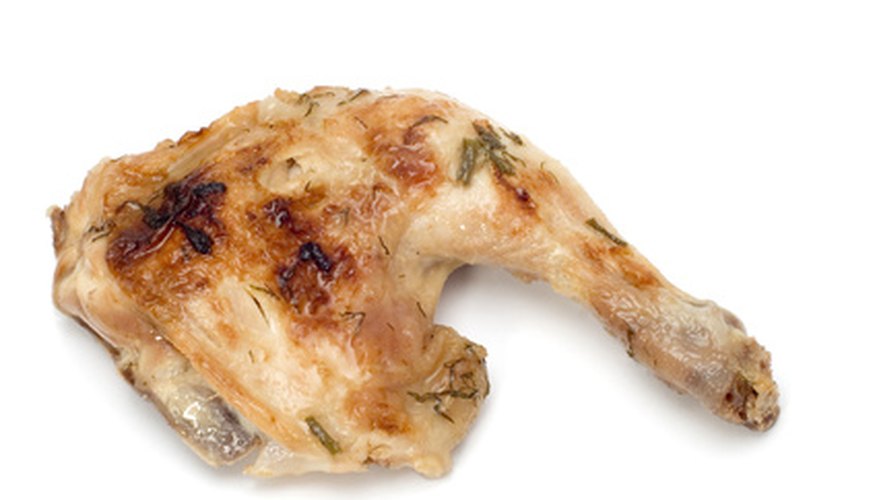 chicken grill image by Aleksandr Ugorenkov from Fotolia.com
Bone meal can be used to make fertilizer because of its high phosphorus content. Bone meal fertilizers can be purchased at your local gardening center, but it is much cheaper if you create your own bone meal fertilizer at home. You can save and use your family's leftover bones from dinner, such as chicken bones. You can turn this fertilizer into a liquid, which is much easier to apply in your garden.
Wash off your bones, and remove any skin or leftover fat that may be on them.
Place your bones on a baking sheet and leave them in the oven for three hours at 300 degrees Fahrenheit. This will kill any disease-producing organisms that could be harmful for your plants.
Grind up the bones to a powder. This can be done with a hand grinder or a coffee grinder.
Place half a cup of bone meal powder in a pot.
Add one qt. of water and half a cup of baking soda. Mix the ingredients together.
Bring the ingredients to a boil while stirring. Then remove it from the heat and allow it to cool completely.
Pour the mixture over the soil in your garden.
Things You Will Need
Bones

Baking sheet

Oven

Grinder

Pot

Water

Baking soda
Tip
Water your garden before you apply your bone meal fertilizer. This helps prevent possible fertilizer burn from occurring.