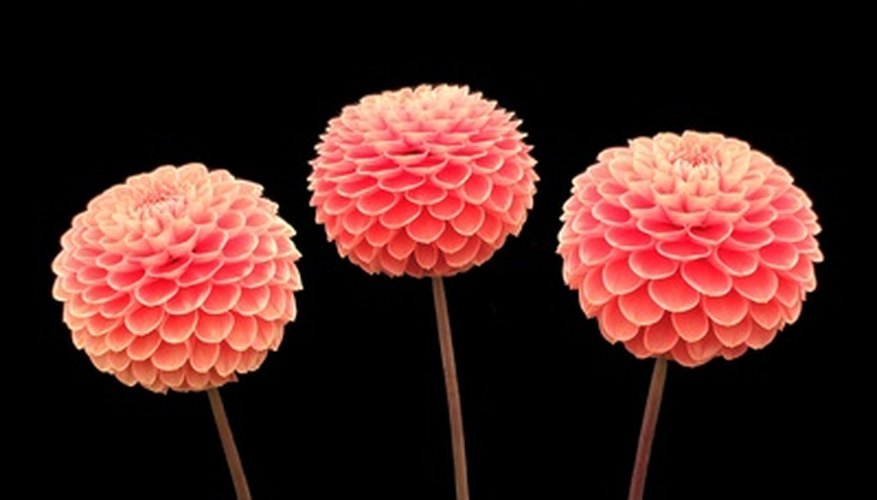 Plants that grow from bulbs are perennials that add color and character to the garden year after year. According to the University of Illinois Extension, bulbs are underground, fleshy storage structures broken into five specific types, including true bulbs, tubers, tuberous roots, corms and rhizomes. Dahlias, gladiolus, lilies and cannas are perennial flowering plants that come in bulb form. In climates with milder winters, cold-hardy bulbs can be left in the ground; however, for optimal health, tender bulbs should be dug up each year for indoor storage.
Wait for flowering plants to bloom, or foliage plants to die back, before removing the bulbs from the ground. Once the bloom and foliage fade, the bulb goes into dormancy, at which point it is safe to remove from the soil.
Use a spading fork to gently lift the bulb from the planting site. Start several inches away from the stems of the plant to avoid damage to the bulb and roots.
Brush away excess soil that surrounds the bulb. Some bulbs can withstand a gentle rinse with a hose to remove excess dirt, while others should not be exposed to excessive moisture before storage. Your local agricultural extension agency or garden club can advise you on your specific bulb plants.
Trim back dead foliage to a height of 1 to 2 inches above the bulb, using pruning snips or garden scissors.
Cure bulbs for one to three days in a dry, well-ventilated area that offers temperatures of 60 to 70 degrees F. The curing process allows bulbs to dry thoroughly before storage, thus preventing rot.
Place bulbs in a crate or box, on a dry layer of sawdust or peat moss. Do not seal boxes, as bulbs need adequate ventilation during storage to prevent decay.
Store boxes in a dry, well-ventilated area that maintains temperatures of at least 60 to 68 degrees Fahrenheit with little to no humidity.
Check bulbs periodically during storage for signs of rot. Remove any rotted bulbs and discard.