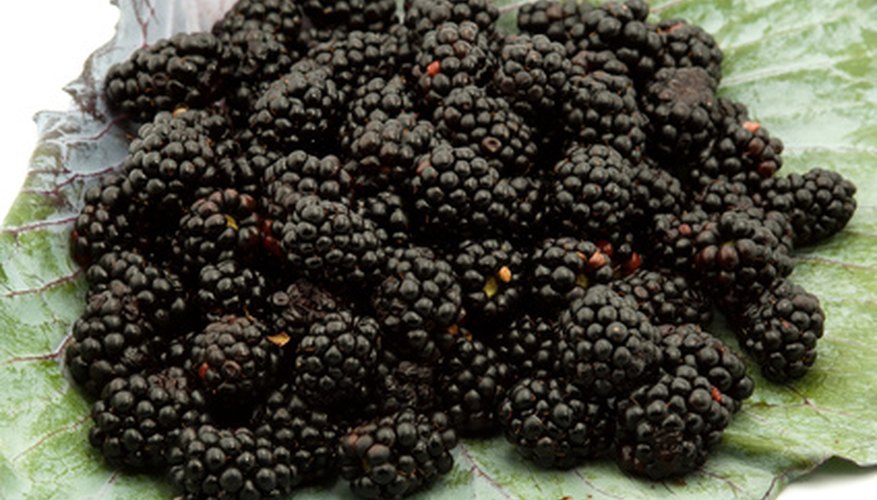 Michigan is not known as a big blackberry-producing state, but some varieties of cold-hardy berries do grow in the southern part of the state. Blackberries are divided into three categories-erect, semi-erect and trailing. Erect plants have thick stems and do not require support; semi-erect plants may require staking when loaded with berries; and trailing plants resemble vines. In general, blackberry plants are hardy in U.S. Department of Agriculture Plant Hardiness Zones 5 to 10.
Southern Michigan is in Zone 5b, which includes Detroit and Ann Arbor. Blackberry plants bear fruit in alternating years, should be planted in full sun and require regular water.
Black Satin
This thornless, semi-erect blackberry cultivar produces large, firm berries that are slightly tart. The berries, which are good for baking, jellies and jam, are mostly black with some red cells. Among the most hardy of blackberries, Black Satin plants are hardy to Zone 5 and berries ripen in early to mid-summer in southern Michigan. In many cases, the plants will produce berries during the first season.
Chester
This cold-hardy cultivar grows well in southern Michigan and produces medium, round, black berries that are very sweet, making them good eating berries. Chester blackberries are high-yielding plants, and are late producers, with fruit ripening in July. These plants are semi-erect and may be grown along trellises for support. Chester blackberries are resistant to cane blight.
Illini Hardy
Developed at the University of Illinois in 1988, the Illini Hardy cultivar is hardy to Zone 3 and is one of the few blackberry plants that may be grown throughout Michigan. Illini Hardy is an erect and thorny plant that produces deep black, medium-sized berries that are good for eating. This cultivar is vigorous and produces good yields throughout the summer.
Resources