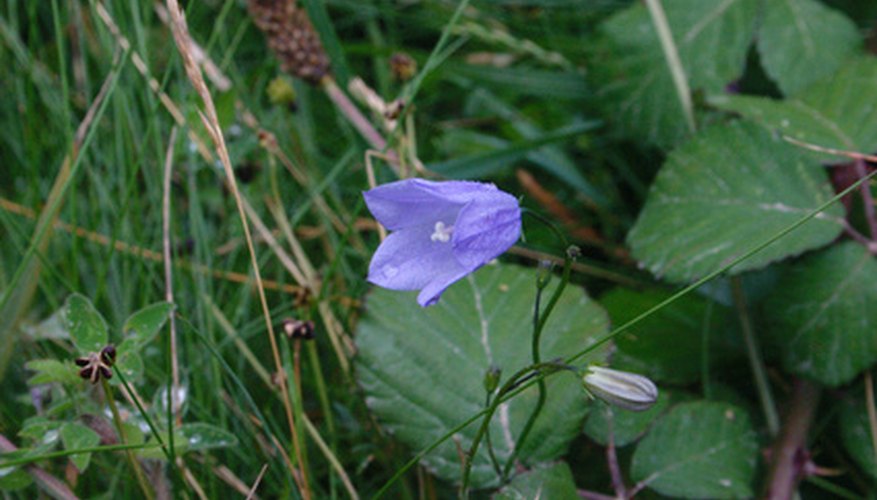 Adding some August-blooming blue flowers to a garden is a good way to boost its palette during summer's hottest days. Blue flowers planted in groups can create a soothing, cool impression. They'll complement your purple, pink and white blooms and make your warm yellows, oranges and reds even more vivid. They evoke images of summer skies and deep, refreshing water. These August flowers are available in a wide range of heights, forms and shades of blue.
Columbian Monkshood
Columbian monkshood (Aconitum columbianum) is a buttercup family perennial standing from 2-to-6 feet high. Growing wild in the Midwestern United States from Arkansas north to the Dakotas and west to the Rockies, it inhabits stream banks and wet thickets and woods. Its usually straight stems have three-lobed green leaves. In July and August, Columbian monkshood bears attractive spikes of blue-violet blooms that open from bottom to top. Their upper petals partially conceal the lower ones, accounting for the plant's name. The flowers draw hummingbirds, butterflies and hawkmoths.
In addition to being a good choice for butterfly and hummingbird gardens, this plant thrives in shade gardens. Plant it, advises the Lady Bird Johnson Wildflower Center (LBJWC) in a shady spot with rich, moist soil. Note that all parts of this plant are toxic to animals and humans.
Bluebell Bellflower
Another good selection for hummingbird gardens, bluebell bellflower (Campanula rotundifolia) is a bellflower family perennial sometimes called harebell. It stands between 4 and 15 inches high. Its clusters of fragile stems usually bend down, nodding beneath their single or multiple blue, bell-shaped flowers. The blooms appear from June to September. An effective rock garden plant, says the LBJWC, bluebell bellflower grows wild on beaches and mountain slopes and in open woods and meadows from Maine south to Arkansas, in the Pacific Northwest and in northern California. Plant it in sun to shade and dry, well-drained sandy soil.
Gregg's Mistflower
An aster family perennial, Gregg's mistflower (Conoclinium greggii) grows along stream beds and on the open plains of Texas, New Mexico and Arizona. Up to 2 feet high, it has three-lobed green leaves. Over a blooming season that lasts from March until November, shaggy, 2-inch clusters of small blue flowers top its straight, narrow stems. During the fall months this plant can be a magnet for Queen butterflies, advises the LBJWC. It likes sun to part shade and dry, gravelly limestone-rich soil. If left unchecked, its roots will spread to form a ground cover.