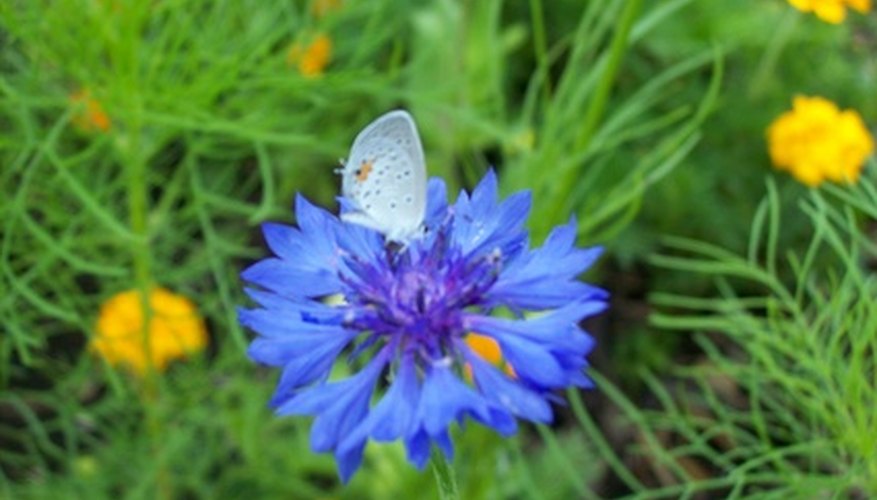 butterfly on bachelor button image by passion4nature from Fotolia.com
Dotted around the Civil War battle sites and tucked into pockets of the Appalachian Mountains in Virginia are gardens galore. A trip to Thomas Jefferson's Monticello plantation, with its meticulous, impressive flower and vegetable gardens, illustrates the growing potential that continues to exist in this Commonwealth. Virginia even hosts "historic garden week" in April by highlighting some of its best gardens statewide and encouraging residents to grow their own.
Cardinal Flowers
Often sold as seeds, cardinal flowers are perennial native wildflowers that grow up to 6 feet tall and bloom all summer. Three lower spreading petals and two upper petals, united by a tube, form each red flower. Because of its longer tube shape that holds nectar deep inside blooms, the plant relies on hummingbirds for pollination and butterflies also flock to it, making it a popular flower garden addition. Cardinal flowers are not particular about light requirements or soil density, but grow them in soil that remains moist or wet.
Hydrangeas
Because Virginia is located in USDA hardiness zones five through eight, many hydrangea varieties grow well there. Plant these bushes in areas that receive morning sun and partial afternoon shade. Ensure that the soil drains well and stays moist, but not soggy. Protect less hardy varieties, like mopheads, during the winter with leaves and burlap to prevent buds at the tips of the stalks from freezing to death. Check out newer varieties that bloom all through the growing season and have vivid colors.
Bachelor's Button
These European natives, also called cornflowers, feature striking blue, round, fluffy flowers that reach no more than 2 feet tall. They are annuals, dying back if they are exposed to frost, but they grow quickly and bloom prolifically. Grow this wildflower in full sun or light shade, and in well-drained soil that stays slightly moist.
Brandywine Tomatoes
Monticello sells these heirloom seeds, which Thomas Jefferson is thought to have grown on his plantation. Grow them as you would any other tomato by planting seedlings in an area that receives full sun and in well-drained soil. Water them consistently as they continue to grow, and give them more water as they flower and produce fruit. Ensure they have plenty of support, because the pinkish-red fruit can weigh more than 1 lb. at maturity.
Eggplant
Like tomatoes, eggplant is another warm season vegetable commonly grown in Virginia, but they are more susceptible to cold weather. Plant them as seedlings after all danger of frost has passed in an area that has well-drained soil and full sun. Space them at least 18 inches apart to give them enough room to grow, or closer for varieties that bear smaller fruit. Water them occasionally; they tolerate short dry periods.