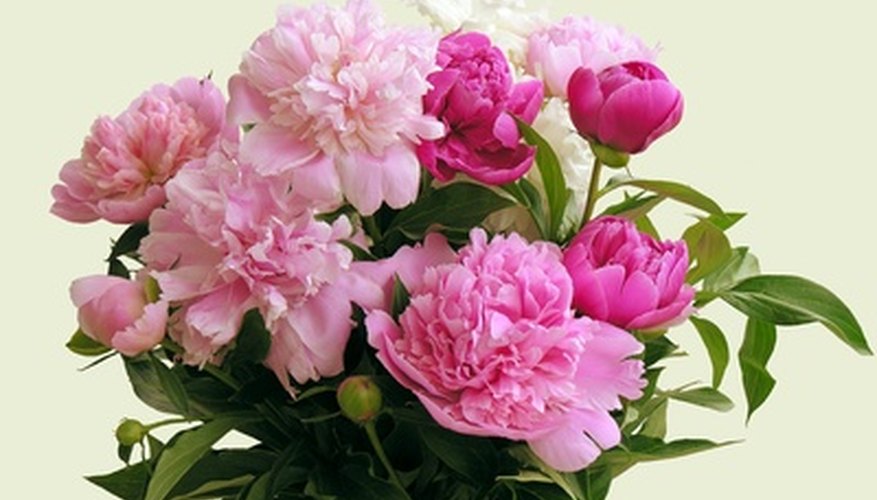 Peony plants are clumping deciduous shrubs and perennials that produce colorful and fragrant flowers. Herbaceous varieties bloom in late spring to early summer while tree peonies emerge in mid-spring and last through the season. Peony flower heads vary to include chalice, bowl, saucer and cup shapes that range from 2 to 12 inches wide. The form is single, semi-double, double or Japanese. All peonies thrive in deep, humus-laden soil that is moist and well-drained.
Common Garden Peony
Common garden peony (Paeonia lactiflora) is a perennial herbaceous woodland peony with a clumping growth habit. Growing 1 to 3 feet tall and wide, garden peonies have dark green elliptic or lance-shaped leaves that are mottled with red. The single flower heads on garden peonies are cup shaped and creamy white to pale pink. The flowers on common garden peonies grow 3 to 4 inches across with yellow stamens. Garden peonies are long-lived perennials that have a short but magnificent blooming season. Divide garden peonies in early fall to grow in other areas of the garden like along a garden wall or flowerbed border. Garden peonies require full sun to part shade and deep, fertile and moist soil that is nutrient-laden and well-drained. The USDA Hardiness Zones for planting are 3 to 8.
Japanese Forest Peony
Japanese forest peony (Paeonia obovata var. alba) is a perennial peony variety with a clump-like growth habit. Growing 1 to 3 feet tall and wide, Japanese forest peonies bloom from early spring until fall for a long-lasting peony type. The egg-shaped leaves on Japanese forest peony are dark green to red and grow 5 inches long. The 2-inch-wide, chalice-like flowers are white with yellow and purple anthers that create a showy garden display. Deer-tolerant, Japanese forest peonies are ideal planted as the focal point to the garden. Japanese forest peonies require full sun to part shade and humus-rich soil that is moist but not soggy. The zones for planting are 3 to 8.
Tree Peony
Tree peony (Paeonia suffruticosa) is a woody perennial shrub that has a slow growth rate and clumping form. Growing 6 to 10 feet tall and wide, tree peonies have an upright and sparsely branched form that maintains its striking structure throughout winter. The dark green to blue leaves on tree peonies are large to contrast with the bright, fragrant flowers. Peony flowers grow in a wide range of colors and shapes including, pink, white, red and purple. The silky flowers of tree peonies grow 6 to 12 inches wide for an ideal flower to use in a fresh cut bouquet. Tree peonies require dappled shade with three to four hours of direct sunlight. They require excellent drainage and humus-rich soil. The zones for planting are 5 to 9.