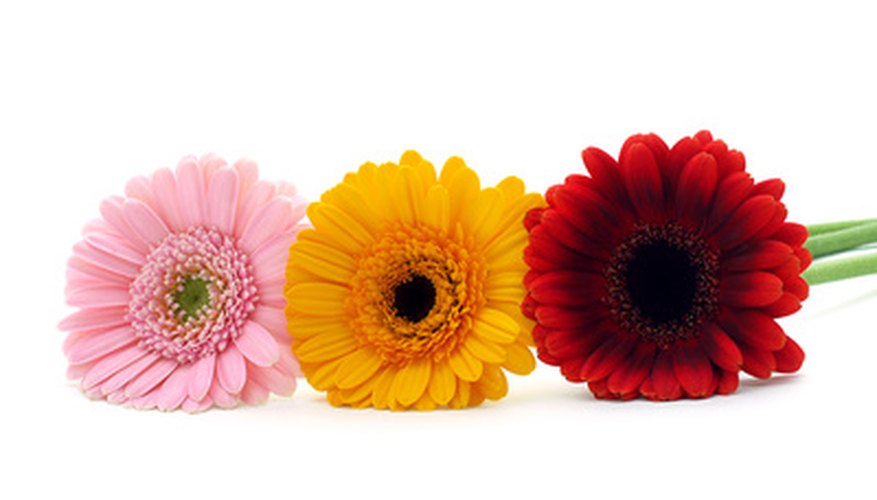 Gerbera daisies (Gerbera jamesonii ) are often a gardener's favorite with large, 4 to 5 inch vibrant-colored blooms, such as yellow, pink and red. They can be planted in a sunny area of the outdoor garden or in containers, if desired. As an added bonus, they also make excellent cut flowers for floral arrangements and bouquets. Gerbera daisies are winter hardy in United States Department of Agriculture plant hardiness zones 8b to 11. In zones 9 to 11, winterizing your gerbera daisies is not necessary.
Add about 3 to 4 inches of organic mulch (e.g., bark, pine needles) around the base of the outdoor gerbera daisies in zones 8b and 9. Do this in the fall about two weeks before the first frost.
Bring potted gerbera daisies indoors in zones 8 and colder. Consider doing this in zone 9a as well where an unusual cold spell can kill your gerbera daisies. In addition, the soil in potted plants freezes before the ground freezes since it is not well insulated.
Lift up outdoor planted gerbera daisies in zones 8a and colder. Dig around the root ball carefully with a trowel and pot them in individual containers. Use all purpose potting soil and plant to the same depth as they were planted outdoors.
Set the potted gerbera daisies in a sunny location indoors. A sunny south facing window is an ideal location. Keep daytime temperatures between 61 and 70 degrees Fahrenheit and nighttime temperatures around 56 to 65 degrees Fahrenheit.
Mist indoor gerbera daisy's foliage one to two times per week during the winter months, especially when the heat is on and the air is drier than other times of the year. If the flowers are in bloom, do not mist the blooms.