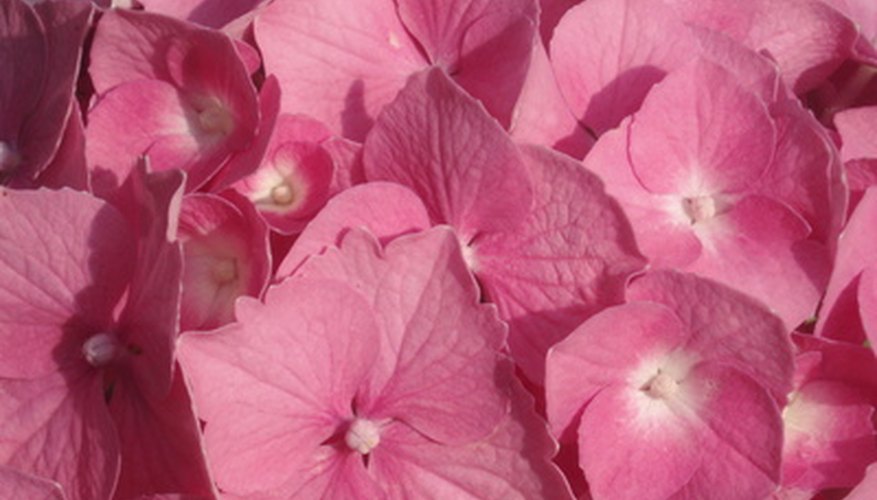 The hydrangea macrophylla, commonly called the "mophead," grows up to 6 feet in height and produces an abundance of blue, pink or white globes of flowers. Soil acidity dictates whether the blossoms will appear blue or pink on certain varieties. Flowers average 1 inch in diameter up to 8 inches. The green foliage measures 8 inches in length and 6 inches in width. In the fall the shrub's foliage turns a brilliant yellow before falling to the ground. The plant grows well down to a Zone 6.
Plant in full sunlight or partial shade. In areas with exceptionally hot summers, plant the shrub in partial shade to avoid midday wilting from the heat. Full sunlight tends to produce more abundant flowers.
Mix abundant organic matter into the garden soil prior to planting the hydrangea. Use peat moss, leaf debris or aged peat moss. Add sufficient organic matter so that the soil feels crumbly to the touch.
Dig a hole that is twice as large as the container the hydrangea is growing in. Place the hydrangea into the hole at the same soil level it was potted within. Place the soil and the organic matter around the shrub's root system. Tamp the soil down so that there are no air pockets.
Water the soil thoroughly once the hydrangea has been planted. Keep the hydrangea's soil moist to the touch but not water-logged.
Mulch around the hydrangea using peat moss or bark chips. Apply 2 to 3 inches to help control unwanted weeds and keep the soil moist in the heat of summer.
Fertilize the hydrangea every two weeks in the spring and summer. Use a fertilizer for Azaleas. Apply according to the directions on the label.
Prune the hydrangea in the late spring after flowering. The hydrangea macrophylla blossoms off old wood. Moderately prune the plant only to maintain its looks or to remove dead wood.