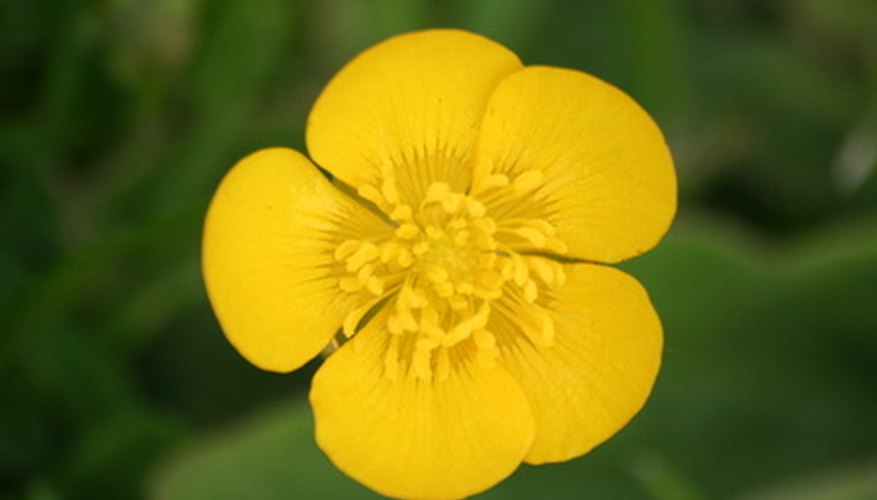 Ranunculus, also more commonly known as buttercup, is a very distinctive bulb that looks a bit like a bunch of bananas. Plant ranunculi in the fall for winter greenery and spring blooms. Any member of the ranunculus family will continue to bloom throughout the summer, eventually withering and turning brown as fall turns into winter. Trim back dead growth so ranunculi can concentrate their energy on next year's new growth. Beware planting in areas where cows or horses graze, as ranunculus is poisonous to these animals.
Potted Ranunculus Bulbs
Mix 2/3 soil and 1/3 perlite or vermiculite together and fill your pots with it. Perlite and vermiculite both help to provide good drainage, which is especially important to members of the ranunculus family.
Plant 5 to 6 bulbs per 10-inch or 12-inch pot. Space them evenly at a depth of about 2 inches. Continuing the banana bunch metaphor, plant so the bottoms of the bananas are facing down. The stem area where the bananas connect (also called the crown) should face upward in the hole.
Cover lightly with soil, then water. Set pots in an area that is not too warm but gets full sun. Ranunculus bulbs do best when planted in cooler weather, with daytime high temperatures no greater than 75 degrees Fahrenheit and nighttime low temperatures as low as 30 degrees Fahrenheit. Green shoots should appear within a few weeks.
Ranunculus Bulbs in Your Garden
Choose an area that gets full sun and has excellent drainage. Dig compost into your garden in a 1:1 ratio to a depth of about 12 inches. Ranunculus bulbs send roots very deep, so it is important to loosen up any compacted soil to this depth to encourage vigorous growth.
Plant bulbs at a 2-inch depth, leaving at least 4 inches between each bulb. Plant with the banana bunch pointing downward.
Cover the bulbs with soil, then water the ground thoroughly. Green shoots will appear within a few weeks.