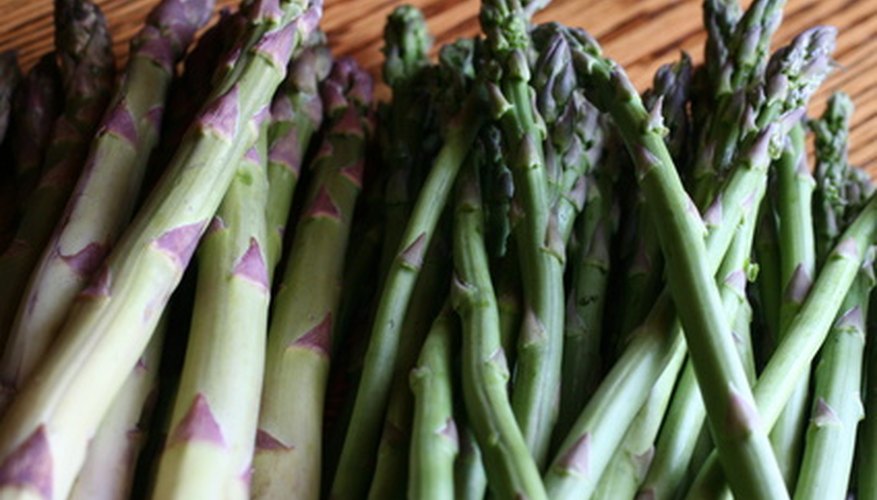 Asparagus is an early-harvest vegetable that grows best in a well-draining soil in an area that receives full sunlight. South Texas provides an optimal growing environment for asparagus as long as the soil pH is tested and amended so it is not too acidic. The first asparagus harvest will appear in the third year of growth. Established plants will yield approximately eight to 12 spears each growing season.
Work 2 lbs. of limestone for every 100 square feet of planting space if the soil pH is under 6.0. Asparagus grows best in a soil pH of 6.5 to 7.0.
Work 3 to 4 inches of organic compost into the planting soil with a tiller. Add 1/2 lb. of 10-20-10 fertilizer for every 100 square feet of planting area to assist with root development.
Create a planting trench that is 10 inches wide and deep in rows that are 3 feet apart. Build a 2-inch mound out of equal portions of compost and rotted manure in the bottom of the trench.
Set the asparagus crown on the mound. Place the crown facing upward and gently spread the roots out. Plant the asparagus crowns 15 to 18 inches apart in the trench.
Cover the asparagus crowns with 2 inches of soil. Add more soil over the crowns as they grow and rise during the first year of growth until the trench is filled.
Water the crowns generously after planting, but do not create pooling water around the plants. Provide 1 inch of water to the asparagus plants each week during the growing season when the rainfall is not adequate in South Texas.
Apply a 2-to-3 inch layer of organic mulch, such as grass clippings or peat moss, around the plants once the crowns have risen and filled with soil.
Fertilize the soil with ammonium sulfate fertilizer at a rate of 1/4 lb. for each 100 square feet in the spring for the first two growing seasons before the spears emerge from the ground. Fertilize 3-year-old plants and older with 1/2 lb. for each 100 square feet two weeks prior to harvest and not prior to spear emergence.