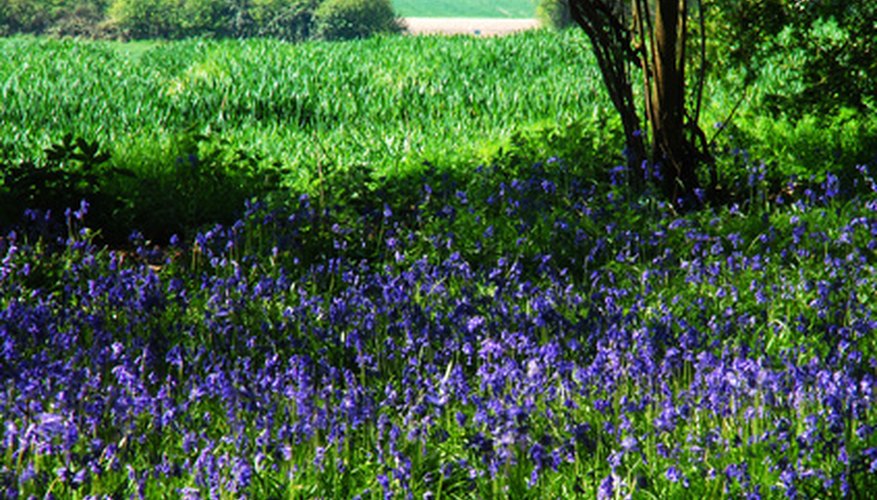 bluebells image by Freeze Frame Photography from Fotolia.com
When spring is underway and the garden is abloom in color, April and May flowers emerge to continue the beautiful show. Grown in dozens of colors, shapes and sizes, spring flowers create a showy garden display into the beginning of summer. Some spring-loving flowers grow low to plant along a front bed, and others are tall for a striking backdrop to the garden.
Virginia Bluebells
Virginia bluebells (Mertensia pulmonarioides) is a perennial plant with a moderate growth rate, clumping habit and pale blue to purple flowers. Emerging in spring, Virginia bluebells grow 1 to 3 feet tall and 6 to 12 inches wide, ideal for growing along a front border for a sea of rich, deep color. The pendulous flowers on Virginia bluebells open from a pink flower bud that sits atop a 16- to 24-inch green stem. The blue to green leaves are elliptic to oval in shape and eventually turn yellow once the flowers have bloomed. Virginia bluebells requires full sun to part shade and loamy soils to thrive. Divide Virginia bluebells in spring after the new growth begins for use in other areas of the garden. Plant in U.S. Department of Agriculture (USDA) hardiness zones 3 to 7.
Grecian Windflower
Grecian windflower (Anemone blanda) is a spring flowering perennial flower with a spreading growth habit. Growing 6 to 12 inches tall and wide, Grecian windflowers have star-like blossoms that grow in white, pink and blue. The low-growing, Grecian windflowers have dissected leaves that are bright green to contrast with the brightly colored flowers. Grown as a ground cover along the garden, Grecian windflowers provide a mass of matting flowers that light up the landscape. They require full sun to part shade, and well-drained, moist soil. Plant in USDA zones 4 to 8.
Copper Iris
Copper iris (Iris fulva) is a beardless, crested iris variety that blooms in April and May to create a vibrant splash of color to the garden. Growing 1 to 3 feet tall and wide, copper iris flowers have a deep terra cotta to copper color. The sword-like foliage shoots up in a short period of time. A butterfly and hummingbird attractant, copper iris brings these winged beauties into the garden for the quintessential garden feel. Native to bogs, copper iris grows best in overly moist soils, and require full sun to part shade to thrive. Plant in USDA zones 4 to 9.