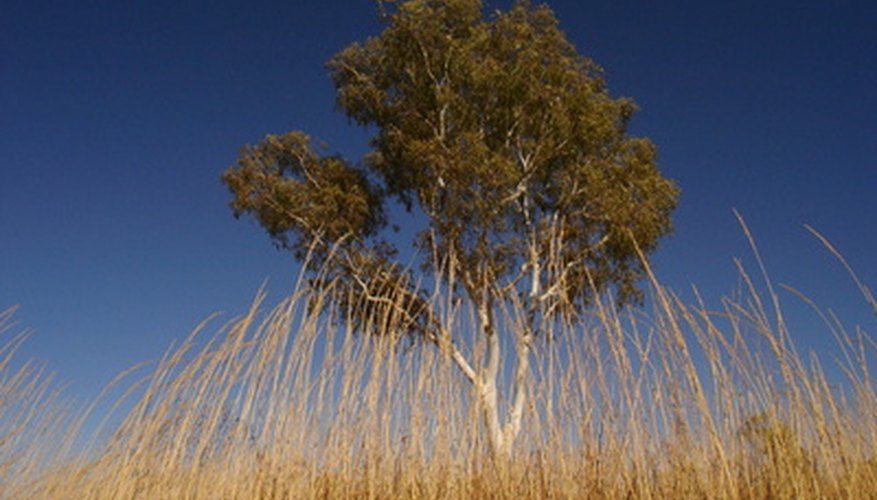 Evergreen shade trees are broad-leafed trees that do well in warmer climates where winter moisture is available and there is no frost. Broad-leaf evergreens are available in all sizes, from small shrubs to tall trees. Types of evergreen shade trees that are 30 feet in height or more with spreading canopies include the camphor tree, yellow trumpet flower tree and the red flowering gum tree.
Camphor Tree
The camphor tree, a native of China and Japan, is grown widely in the Southern United States. The tree grows to nearly 100 feet in height, and its branches form a wide-spreading globe shape. The camphor tree's leaves shed when new leaves appear, according to "The Field Guide to the Trees of North America," by National Geographic. The bark is reddish-brown, smells like cinnamon and distills camphor oil.
Yellow Trumpet Flower Tree
The yellow trumpet flower tree is a fast-growing tree that reaches a height of 30 feet. The tree does well in arid climates, according to "The Illustrated Encyclopedia of Trees of North America," by Tony Russell, Catherine Cutler and Martin Walters. The bark is light gray to brown in color and the tree may have multiple trunks. The leaves are clustered in groups between eight and 10 and the yellow flowers are trumpet-shaped.
Red Flowering Gum Tree
The red flowering gum tree grows from 80 to 120 feet in height and is native to Australia, although the tree does well in Southern California and Arizona, according to "Evergreens," by James Underwood Crockett. The bark is blue-gray, brown and yellow in color and peels in thin strips. The leaves are blue-green and the fuzzy red or pink flowers bloom in January and February and again from July through October.