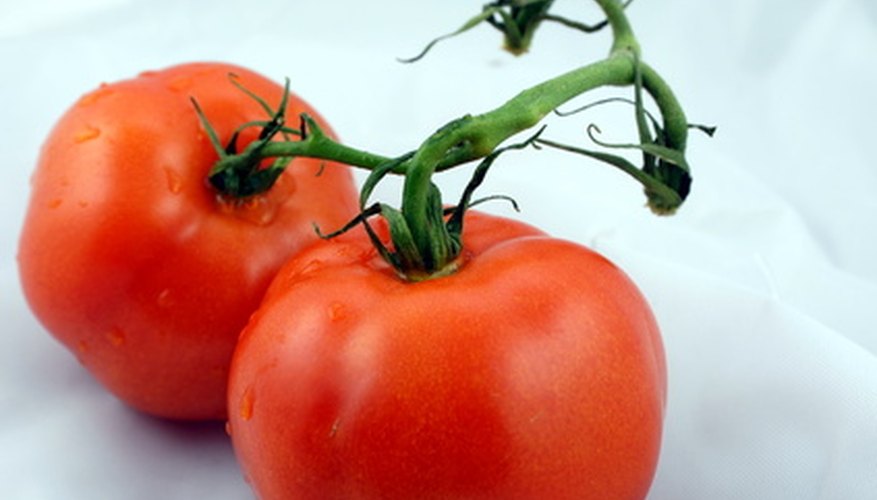 Strangely enough, tomatoes, or "wolf peaches," were not demonstrated to be edible until 1820 in Europe. Before that, the plants were merely ornamental. Tomatoes prosper in frost-free conditions with warm temperatures and moist soil. Eat them fresh or can them as pastes or sauces. Grow them in the home garden or buy them at the supermarket year-round, where they may originate at farms from around the world.
China
Tomatoes are widely cultivated across China in both open fields during the summer and in plastic tunnels or inexpensive tubular greenhouse rows, according to the 2007 journal article "The Current Situation and Trend of Tomato Cultivation in China." Estimates by the UN's Food and Agriculture Organization in 2007, the latest year published online at time of this article, reveal the nation produced more than 33 million metric tons of tomatoes. Highest production occurs in the provinces immediately south of Beijing, in western China's Tibet where short summers create large fruits in huge numbers, and along the extreme southeastern coast, including the islands of Taiwan and Hainang, where tomatoes grow year-round in the subtropical climate.
United States
In 2007, the United States produced 14 million metric tons of tomatoes, most heavily in the states of California and Florida. California tomatoes are destined for canned sauces, pastes and ketchup, while Florida's fruits supply much of the Eastern states' winter and spring fresh grocery supplies. In the summer, many Eastern states supply fresh fruits, too, including Michigan, New Jersey, Virginia, Georgia and North Carolina. The months of August and September yield the greatest amounts of local tomatoes nationwide from both commercial and backyard vegetable patches.
India
India produced 10 million metric tons of tomatoes in 2007. Tomatoes grown during the hot, rainy summer monsoons are susceptible to disease, so larger organically grown tomatoes are planted in August and September for ripening across the warm and dry winter. Six states in India create the greatest tonnage of tomatoes: Orissa, Karantaka, Andhra Pradesh, Bihar, West Bengal and Maharashtra, based on data from India's National Bank for Agriculture and Rural Development.
The Remaining Top Producers
Of the remaining top 10 producers of tomatoes in 2007, as per the FAO, three are in Europe: Turkey, Italy and Spain. Egypt and Iran in the arid Middle East/Northern Africa as well as Brazil and Mexico in Latin America comprise the remaining leading tomato-growing nations. Interestingly, Mexico supplies much of the American West with fresh tomatoes during the winter months.