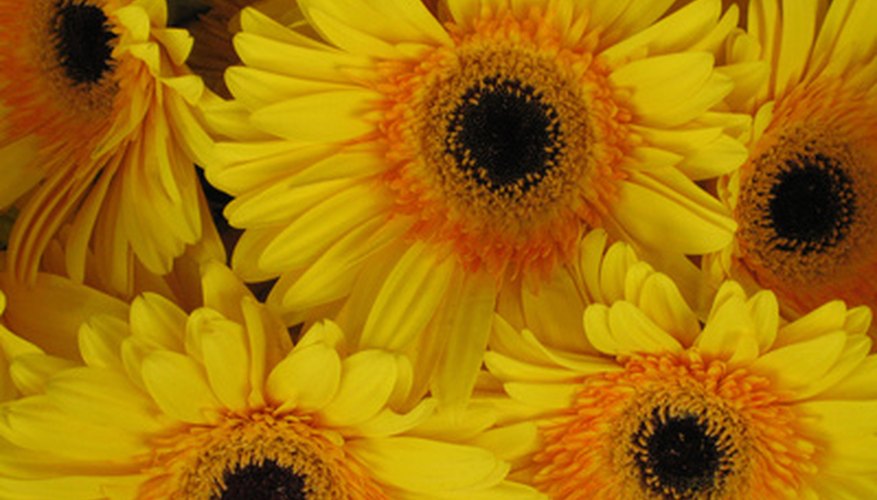 Daisy flowers grow as perennials in their hardiness zones and as annuals elsewhere. The flowers fit in almost anywhere--rock gardens, in the crevices in rock walls, under trees that provide light shade, as border plants, part of a perennial garden, in containers or window boxes. The simple beauty of a daisy make it a good choice for a mixed bouquet.
Mexican Fleabane Daisy
Mexican fleabane daisy (Erigeron karvinskianus) is a native of Mexico and grows as a perennial in areas with arid, warm summers. In other areas, the plant will grow as a self-seeding annual, so gardeners in all areas of the country can enjoy the flowers year after year. The plant blooms from early summer to mid-fall, producing low-lying, gray-green leaves with a spread of 6 to 8 inches and small, white daisies that turn pink as they age and grow from 6 to 8 inches tall. Mexican fleabane daisy needs full sun, but is adaptable when it comes to soil as long as it is moist to dry and well drained. Butterflies will stop by for a taste of the nectar.
Shasta Daisy
Shasta daisy (Leucanthemum x superbum) has a more up-right growth habit reaching from 8 inches to 4 feet tall and 1 to 2 feet wide. The plant produces shiny, dark-green leaves that grow up to 1 foot long at the bottom of the plant, but get progressively shorter as they appear higher up the stems. Flowers consist of white petals with yellow center and bloom in July. Plant Shasta daisy in full sun if the soil is moist, rich and well drained and in partial sun if the soil is dry. The plant does not take wet soil. Shasta daisy is hardy in USDA Hardiness Zones 5 to 9.
Gerber Daisy
Gerber daisy (Gerbera Jamesonii) is also known as Transvaal daisy, Barberton daisy and African daisy and is native to South Africa. The leaves form a rosette pattern, growing close to the ground and spreading out to about 12 inches. The flowers are yellow, orange, white, cream, pink, red, crimson or violet with a golden center disk, measure from 2-1/2 to 4 inches in diameter and grow from 12 to 18 inches tall. Plant Gerber daisy in full sun or partial shade and a soil that is moist but not wet. The flower is hardy in USDA Hardiness Zones 9 to 11.