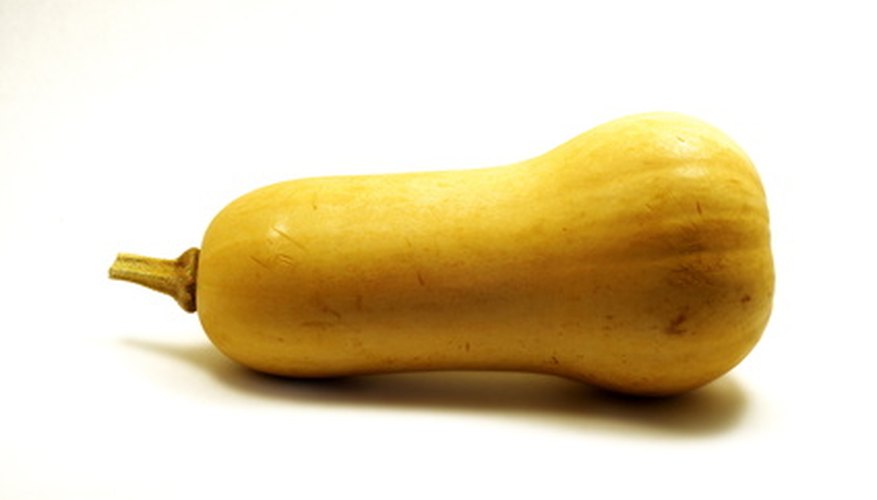 Gardeners with room for winter squash often add the versatile spaghetti squash to a home garden for a delectable and nutritious squash variety for fall and winter eating. As the summer progresses and the spaghetti squash begins to mature and grow large on the vines, watch them carefully so you know when to harvest them. After a bountiful harvest, cook spaghetti squash to use in a variety of dishes.
Harvest spaghetti squash from the vines when the vegetables are a deep yellow color. Press lightly on the sides of the rind to determine if they are hard or soft. A winter squash is mature when the rind feels firm. Cut the spaghetti squash from the vines with the utility knife, leaving at least 2 inches of stem protruding from each squash to keep the vegetables as fresh as possible.
Wash the spaghetti squash under cool water, rubbing the rinds briskly with your hands or a vegetable brush to remove all surface dirt.
Place the spaghetti squash onto the cutting board. Slice the squash in half vertically from the top to the bottom with the butcher knife. Omit slicing smaller spaghetti squash (1 pound or smaller), if you desire. Bake these squash whole and remove the seeds after baking.
Pick out the seeds from the centers of the spaghetti squash with your fingers. Discard the seeds.
Place the halved or small whole spaghetti squash into the baking dish with the cut sides facing up. Sprinkle any desired seasonings over the squash. Place the lid on the baking dish.
Bake the spaghetti squash at 350 degrees F for approximately 30 minutes. Assess the squash after the time elapses to see if they are finished baking. Insert a fork into the pulp of the cut squash and pull the strands of squash up with the fork. If the strands separate easily from the squash, the squash is finished baking. Insert the tines of the fork into the uncut spaghetti squash and if the tines penetrate easily, the squash is finished baking.
Remove the squash from the oven and allow the squash to cool for approximately 10 minutes. Remove the squash pulp from the cut squash with the fork and place the pulp into a serving dish. Cut the whole squash in half and pick out the seeds. Remove the pulp with the fork and transfer it to the serving dish.
Fluff the pulp with two forks to separate the strands. Serve the cooked spaghetti squash with a pasta sauce (marinara or cheese, for example), melted butter or olive oil.