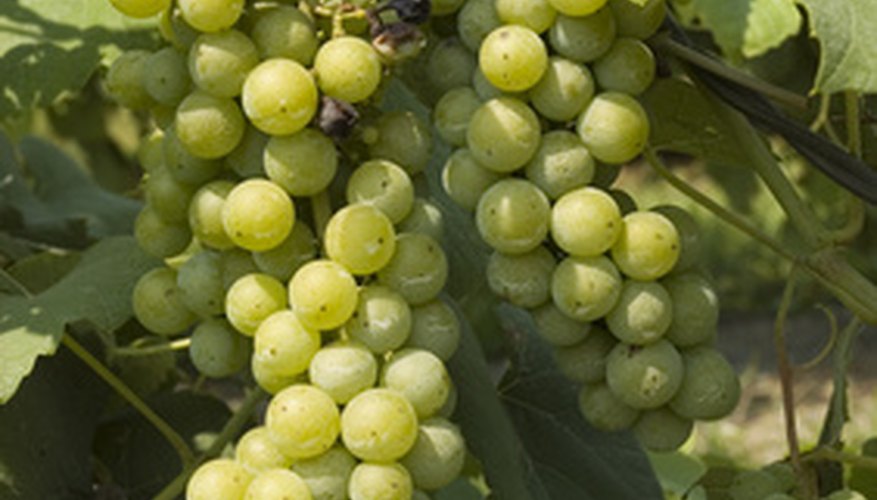 Although many home gardeners use vertical trellises for visual appeal, commercial grape producers and other gardeners serious about plant production often use horizontal trellis structures. Placed parallel to the ground (instead of perpendicular), horizontal trellises provide support during the growing process, which trains your plants to grow straight up and minimizes stalk bends and warping, according to Shane Smith, co-author of "Greenhouse Gardener's Companion."
Support Posts
The support posts will make or break your horizontal trellis structure. Install thin, weak support posts or place them too far apart and your horizontal trellis will inevitably not work. Typically, amateur gardeners don't take into consideration the weight of the plants that will pull on the trellis as they mature and grow. Weighed down by heavy, lush grape vines, poorly supported horizontal trellises may sag and--in extreme cases--fruit production could suffer.
For small garden areas that measure less than approximately 10 feet by 10 feet, you should be able to locate your support posts at the corners of each bed area. However, larger areas that require horizontal trellis support will need more frequent post spacing. As a general rule of thumb, plan on positioning trellis supports every 8 to 10 feet. Sink each support post at least 12 inches into the ground for maximum strength.
Trellis Netting
Constructing a horizontal trellis from stiff materials, such as narrow boards, is typically unnecessary and often unwieldy. Most advocates of horizontal trellises opt for flexible netting or wires, because they provide plenty of support and are inexpensive. Smith suggests that small-time gardeners use either welded wire fencing or woven wire, because they're sturdy and widely available. Other options include chicken wire and galvanized wire.
When you install your horizontal trellis, lay the netting flat on the ground first, so you can cut it to size with wire cutters. If you're constructing a wide horizontal trellis that requires several strips of wire fabric, install each individual strip first, wiring the strips together afterward, if desired. Although some plants will only need one horizontal trellis, don't forget that taller plants, such as snapdragons, may require several horizontal trellises (one on top of the other) as they grow taller, so make sure your support posts are tall enough to accommodate all the horizontal trellises for each group of plants.
Hardware
Although it's not quite as important as your supports and netting, hardware helps determine the lifespan of your horizontal trellis. Common options include wire, metal clasps and staples. Use metal clasps or wire to secure the netting to metal posts. Stick with metal staples if you're using wooden posts. Even though it costs more, opt for galvanized hardware, because it resists the effects of weathering.