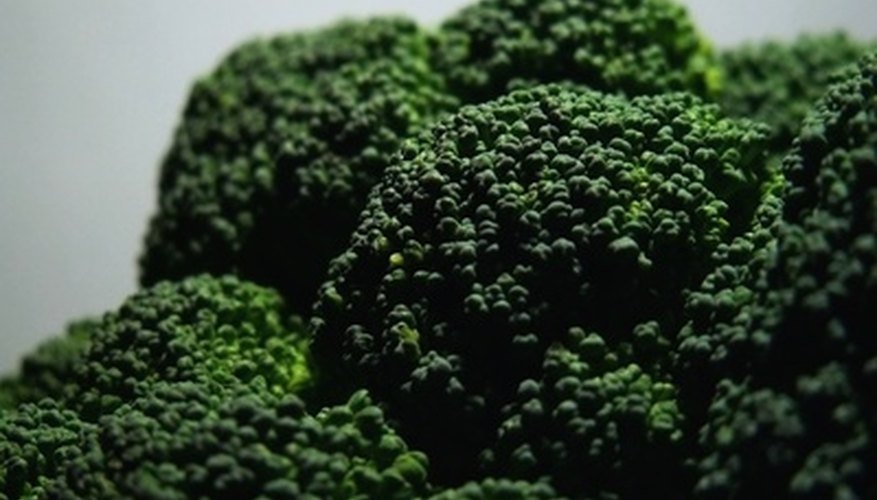 While broccoli can be directly sown in the garden, most seed providers such as Heirloom Seeds recommend starting seeds indoors to prevent cold temperatures from killing seeds. Sow seeds five to six weeks before your area's last frost, usually during March or April. Or start seeds in June or July for a fall planting. Always consult your seed packet to determine when to start seeds and how to space; seed directions can vary widely by variety.
Pour warm water over seed-starting mix. Let the mix sit overnight. Use the damp mix for planting.
Fill a planting cell with the damp seed-starting mix.
Poke one to two broccoli seeds into the cell, 1/4 inch deep, and pack soil over the seeds.
Position the planting cell in a warm area that reaches 70 to 80 degrees Fahrenheit consistently. After germination, move the cell to a window with full sun or under grow lights.
Cut the less healthy seedlings off at soil level with clean, sharp scissors, leaving just one seedling.
Water plants every day with a light stream of water. Water until moist, not soggy.
Harden off broccoli plants before planting outside. This process takes two weeks. Daily move broccoli seedlings in their cell outdoors in a shady location. Gradually move to areas of sunlight for short periods each day.
Plant broccoli plants in the ground once hardened. Dig a hole twice as large as the mass of soil and plant deep enough to cover up to the base of the plant. Place the plant with attached soil into the hole and pack soil firmly around the plant's base.
Water daily until moist.