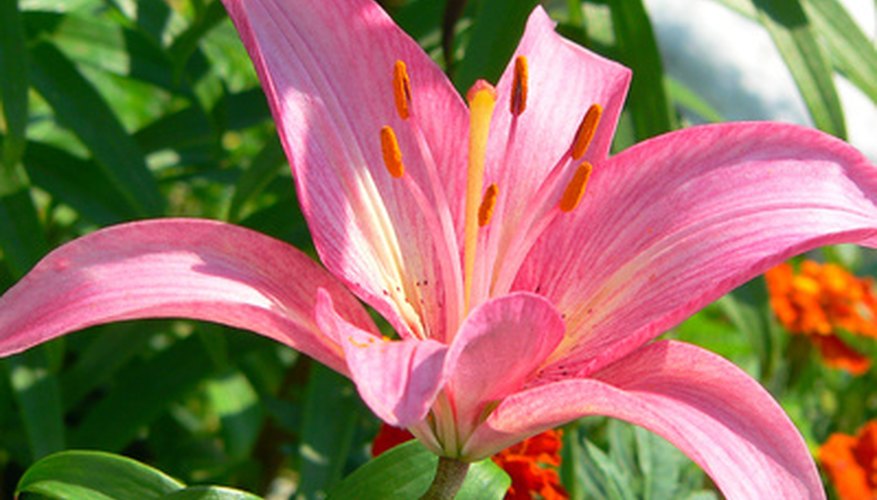 Amaryllis belladonna originated in South Africa and grows from a large perennial bulb. Common names for the plant are August lily, Naked Lady and Belladonna lily. It is a tender bulb, hardy to U.S. Department of Agriculture planting zone 8 and in zone 7 with winter mulching. The bulb sends up leaves in late winter, and in summer up to 3-foot stalks emerge with large pink flowers atop. These flowers make wonderful border plants and work well in beds and rock gardens.
Choose an area in the landscape that has full sun to morning shade and afternoon sun. The area should drain well, never pooling water after a heavy rain. Plan to plant these bulbs in the fall.
Use a spade to dig a hole for each bulb twice its width and 6 inches deep. Bulbs should be 6 to 12 inches apart. Amend the dug-out soil with one part compost to one part soil.
Add some bulb fertilizer to each planting hole and place a little soil over it so it does not come in direct contact with the bulb. Follow the manufacturer's direction on the amount to use.
Put a small handful of bone meal in the bottom of the hole. Then place the Amaryllis belladonna lily bulb in the hole with the pointed end up and cover it with the amended soil. Lightly hand-tamp the soil down.
Water the soil thoroughly immediately after planting and twice a week throughout the winter when it is dry. This is when the bulb starts growing. Through the spring and summer, water when the top of the soil feels dry.
Spread a 3-inch layer of shredded pine bark or wood chips around the plants once they start to come up and you can see where to lay the mulch. Keep the mulch from touching the main stalks of the plants.