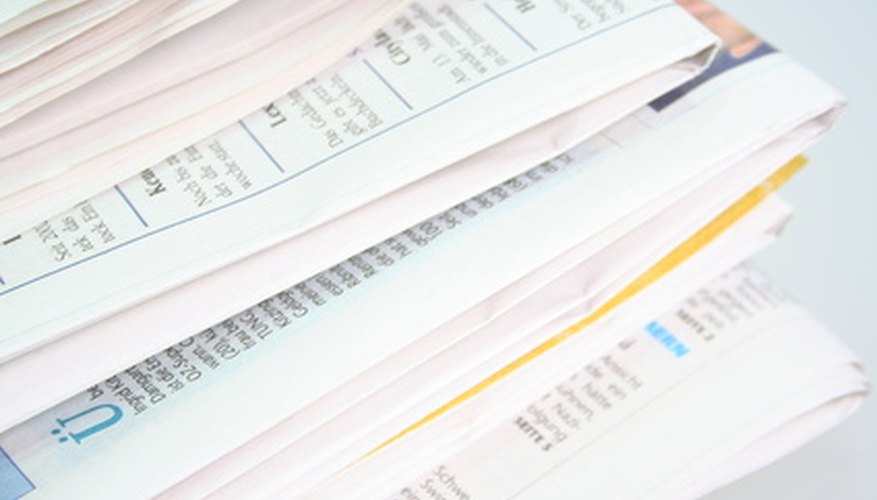 Controlling weeds is a constant problem in most gardens. Finding an effective way to control weeds that avoids the use of dangerous chemicals is important around food crops. One of the ways to control weeds and grasses is to smother them using something that prevents light from reaching the weed plants. You can use old carpet as well as plant materials such as leaves of mulch. A common item found around most households is newspaper. Since newspaper is made of plant material and most modern inks are soy-based, you can safely use newspaper for weed control in the garden.
Separate the slick colored parts of the newspaper from the newsprint pages. The slick colored sections do not break down easily and may not contain organic inks.
Soak the area of the garden where the weeds you would like to kill are located with water. Hard woody perennial weeds need to be cut down to just below the soil surface with a pair of garden shears. All other weeds can remain in place. By soaking the weeds with water, they will rot quickly under the newspaper layer.
Cover the weeds with six to eight pages of newspaper and spray the sheets of newspaper with water to weigh them down and prevent them from blowing away. Work with one section at a time, covering the weeds and soaking the newspaper as you go. If you are covering tough perennial weeds, add another three or four sheets of newspaper for effective control.
Cover the damp newspaper with mulch, garden soil or a few rocks to hold it in place. Mulch is the best choice because it looks nice. The weeds under the newspaper will die because they are deprived of light. You can remove the newspaper at a later date or you can punch holes in it and plant seeds or small plants in the holes. This is an effective way to control weeds in the flower bed around your desirable plants.