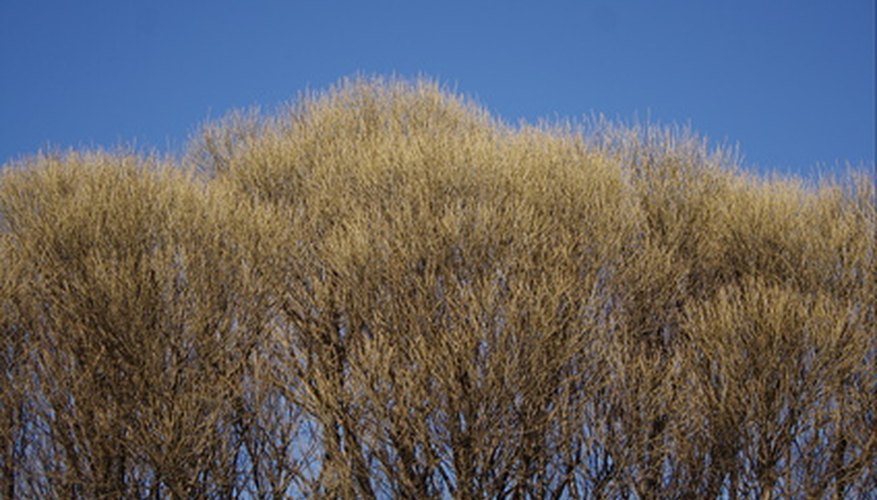 Willow branches are used in basket making because they are pliable and willow trees recover quickly after limbs are harvested. Growing willows for basket making takes some patience. However, anyone can do it if they have time and available space. It takes several trees to produce the amount of branches needed for one craft project. The art of basket making using willow branches is hundreds of years old. Any variety of willow that exhibits the right amount of pliability in its branches is a suitable variety for producing stems for basket weaving.
Plant newly cut willow branches 9 inches long in a sunny area in average garden soil. This should be done in the fall in the southern half of the U.S. and in very early spring in the north where the ground freezes. Simply push the branch sections into the damp soil. Leave two or three leaf buds, or tiny swollen areas where the leaves sprout in the spring, above the soil line. Firm the soil around the branch sections, or rods, so they remain upright.
Water the branches if the soil does not remain damp. Willow contains a natural rooting stimulant, so most branches should root if the soil remains damp. New growth should appear in the spring.
Allow the trees to grow unencumbered for the first year.
In the fall of the second year, cut the tree down to two inches from the ground using a chain saw. All branches and growth should be removed. Only the stump should remain. Cut the stump at a slight angle so water will run off the stump or stool. The practice of cutting the tree to ground level in order produce lots of new growth is called coppicing.
Harvest the willow stems for basket making in the winter of the third year by cutting all the rods, or stems, that grew over the summer back to the stump or stool with a garden lopper. Wait until all leaves have fallen off the stems and the cold of winter has set in. That way the stems have a low moisture content and the limbs shrink less during the basket making process. New stems will grow to replace the harvested stems and can be harvested the next fall. You can also take some of the harvested rods and push them in the ground to make new trees.