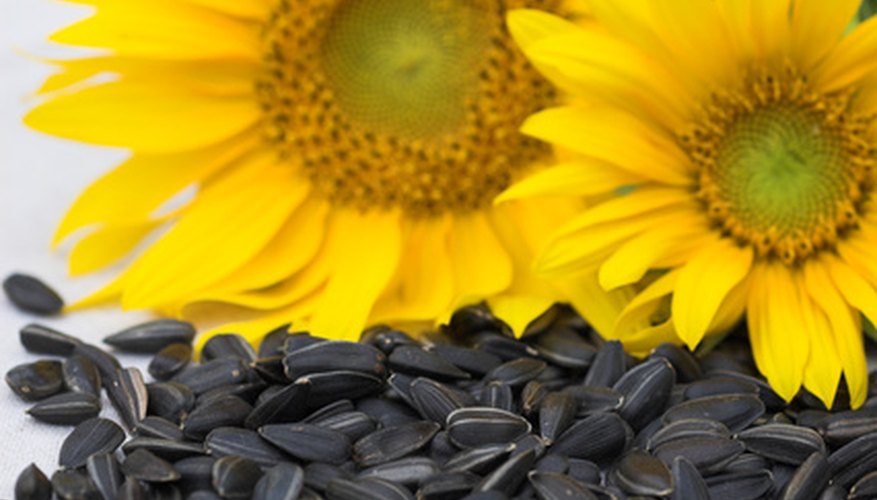 Sunflowers, a popular annual blooming plant, produces very large, bright flowers. The hundreds of available varieties come in red, yellow, orange and even bi-color. Dwarf sunflowers grow only 18 inches tall, branching sunflowers produce many blooms and single-flowering varieties produce one big flower at the top of a tall stalk. The type you choose depends on whether you plant sunflowers as an ornamental feature or if you want them to produce seed for oil or food. All varieties grow well in Manatee County, Florida if planted at the right time.
Choose the type and variety of sunflower you would like to grow. Some sunflowers are day-length neutral, which means they continue to grow after the summer equinox when day length slowly begins to shorten. Other varieties grow best if planted in springtime as the days begin to grow longer.
Hybrid sunflowers, also known as pollenless sunflowers, are grown for cutting and do not produce viable seed. However, most pollenless varieties are day-length neutral and can be planted until 60 days before the average first frost. The largest types, such as "Mammoth," that produce viable seed must be grown in the spring.
Clear an area to plant that receives more than 6 hours of sunlight each day. Sunflowers need plenty of sun to grow. The area should be well-draining, as sunflowers cannot tolerate water-logged soil. In some parts of Manatee County, sunflowers may need to be planted in raised beds because of the high level of annual rainfall.
Remove all weeds using a shovel and a hoe. Spread a 1-inch layer of compost along with the recommended amount of granulated organic fertilizer, according to the fertilizer container label, over the planting area. Work the organic matter and fertilizer into the top few inches of soil. Rake the planting area smooth.
Plant the sunflower seeds after all danger of frost has passed, which is after March 15 in Manatee County, Florida, located in USDA Plant Hardiness Zone 9 . Plant the seeds 1/2 inch to 1 inch deep and sprinkle the planting area with water. Sunflower seeds germinate in about four days.
Water the sunflower plants if they are wilting in the morning, or if there is no rainfall for 5 to 7 days. Sunflowers often wilt in the hot afternoon sun as a natural response to the heat. Do not fertilize after they are knee-high. Over-fertilization encourages green, leafy growth rather than bloom production.