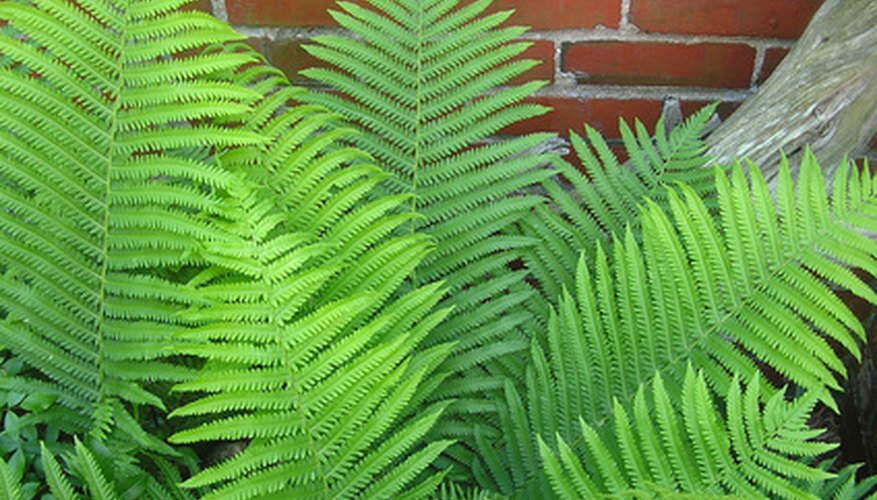 Many gardeners feel challenged when confronted with a shady site--but they needn't be. A wide range of groundcovers, flowers and herbaceous perennial plants don't need sun in order to grow well. Almost all shade-loving plants also love moist conditions, as long as the soil is well-drained. Choose plants for the shade garden based on the color, shape and texture of their leaves, rather than the color and blooming season of their flowers.
Groundcovers
Among the groundcover plants that thrive with no direct sun are Japanese spurge (Pachysandra terminalis). Japanese spurge is a low-growing evergreen groundcover that spreads by stolons. It requires moist, well-drained soil and full shade in order to grow well. Until it is established, remove weeds as spurge will not compete favorably with them.
A slow-growing ground cover, wild ginger (Asarum canadense) grows well in either light or dense shade. It prefers moist, well-drained soil and will grow from 6 to 10 inches high, slowly spreading 12 to 24 inches wide. The flowers are hidden at the base of the plant in early spring. Its foliage is evergreen and its roots smell like culinary ginger, although the two plants are not related.
Flowering Perennials
With purplish-pink flowers that last for 6 weeks during midsummer, bleeding heart (Dicentra spectabilis) is also commonly called "Dutchman's britches." Its unusual flowers do indeed resemble a pair of old-fashioned "britches," albeit in a color likely never worn. Bleeding heart grows best in well-drained soil.
Blooming in midsummer, black snakeroot (Cimicifuga racemosa) produces small white flowers on tall flower stalks up to 3 feet high. Also called black cohosh and bugband, black snakeroot grows 4 to 6 feet high in moist soil in full shade.
Herbaceous Perennials
Hostas (Hosta spp.) are members of the lily family and are planted primarily for their unusual foliage. They happily grow in deep shade, their varied leaf colors bringing light and texture to the lower light levels there. Hostas come in a wide range of leaf sizes, measured in inches or feet. Their leaf colors run the entire spectrum of green, including yellowish-green, chartreuse and blue-green, even so-called "blue" varieties.
Another shade-loving plant grown primarily for its foliage is ferns. One of the oldest living species, ferns do not produce flowers but are grown for their unusual foliage. Many varieties thrive in deep shade, their natural home being the forest floor, deep in the shade of the forest canopy overhead. Ferns are relatively care-free, asking only that you clean up their dried fronds when they freeze in late autumn.