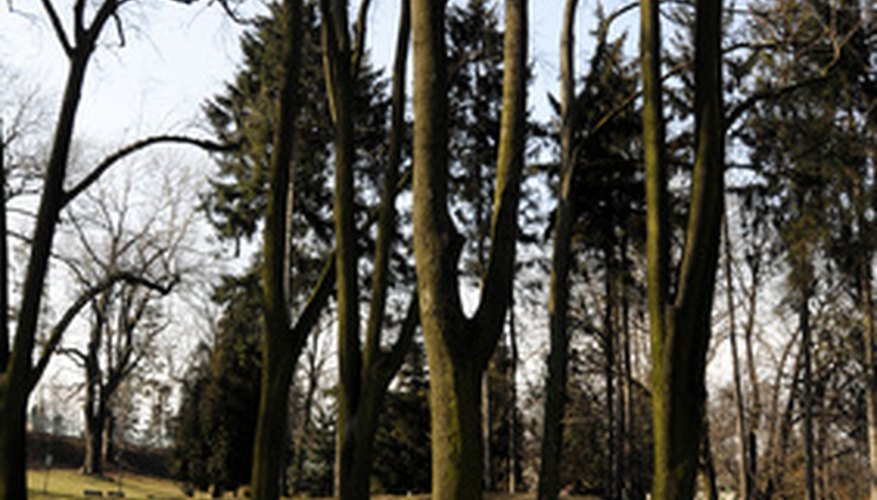 Majestic trees and cool summer shade are just some of the benefits of a wooded area near the home, but a landscape in the trees also has its challenges. Diminished sunlight and competition with tree roots limits your planting options to those plants that work with the natural woodland. Fortunately, native and well-adapted forest flowers, small plants, shrubs and trees are abundant, presenting many landscape style options for an attractive wooded setting.
Open Park-like Landscape
An airy landscape of dappled sunlight can be created by thinning out trees to leave only the handsomest, healthiest specimens together with a few younger trees that can grow up to take the place of any larger trees that suffer damage in the future. The Cornell Cooperative Extension of Nassau County suggests spraying vines and underbrush with a chemical brush killer, then removing them with a brush hook and grub hoe. Lower tree limbs can then be removed with a pruning saw to leave a woodland setting that is open and light rather than dark and heavy.
Create Rooms with Shrubs
The University of New Hampshire Extension suggests setting paths of compressed dirt or bark chips through your wooded areas to create the peaceful impression of wandering through a secluded forest, even in your own backyard. While a privacy hedge of dense evergreens can serve to screen out adjoining properties, woodland shrubs can also be used to create intimate private forest rooms for reading, socializing or quiet thought. The New Hampshire Extension suggests a number of suitable flowering shrubs, including: any of the many members of the viburnum family, which also bear attractive berries; rhododendrons and mountain laurels; kousa dogwood; and the winter-blooming witch hazel. Create room-sized clearings with low-growing ground covers or a thick layer of wood bark mulch, and surround them with these shrubs, leaving openings for your paths in and out of the clearing. Place a pair of comfortable chairs and a small table in the forest room.
Woodland Wildflowers
A wooded area can be home to a carpet garden of spring woodland wildflowers. According to the University of Missouri Extension, many wildflowers adapt well to landscape areas that are too shady for most popular garden flowers. Woodland wildflowers tend to bloom in April and May before the dense tree canopy has leafed out overhead. The Missouri Extension suggests Dutchman's breeches, dogtooth violet, jack in the pulpit, trillium and mayapple for spring blooming. Jewelweed and great blue lobelia bloom later in the summer season, while false Solomon's seal blooms early but produces bright red berries later in the summer. Ferns tend to unfurl after the wildflowers have bloomed, creating an attractive informal ground cover until the next year's wildflower blooming season.