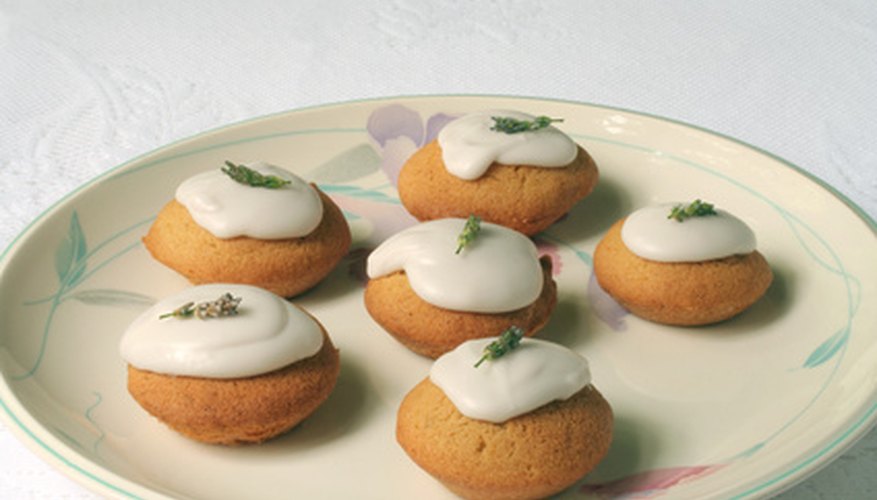 Lavender is a perennial in the garden perfuming the air with its unmistakable scent. The plant grows to 3 feet high with grey-green, scented, feathery leaves. The purple flowers bloom on stalks held above the bush. Plant lavender in the garden by walks and pathways. When strollers brush against it, the lavender's fragrance will be released. Cut the lavender flowers in the morning, right after the dew has evaporated.
Potpourri and Sachets
Bunch the stems together and fasten with a rubber band. Bunches should be no thicker than your thumb so the flowers dry quickly. Hang the bunches upside down in a warm, dry place until the flowers are crisp and the stem brittle.
Strip the flowers from the stems by grasping the stem with your thumb and forefinger and squeezing the flowers off the stem. Use in potpourri mixes.
Fill baby's socks with the dried lavender blossoms. Tie with a ribbon and hang in the closet, put in drawers or place between sheets and towels.
Cooking
Wash the lavender flowers by submerging in a sink full of cold water. Swish the flowers around, and then remove to a colander. Repeat two more times to remove any bugs, dust or soil.
Put the lavender on a towel and pat dry.
Place six stems of lavender in a glass jar. Fill the jar with white sugar, and put on the top. The sugar will take on the flavor and scent of the lavender after a few days. Use the lavender sugar in cookie, cake or frosting recipes.
Use lavender in dishes where a bit of sweetness is desired, such as barbecue sauces, stews and soups. Try lavender in lemonade or add it to hot tea. Combine the lavender with butter and use on toast.
Dried Floral Arrangements
Cut the stems as long as possible. Dry as in section 1.
Keep the bunches together, and use in dried floral arrangements.
Use the bunches in wreaths by wiring to a wreath form.
Things You Will Need
Lavender stems and flowers

Scissors

Rubber bands

Baby socks

Ribbon

Towel

Glass container with lid

Sugar

Butter
Tip
Dried as well as fresh lavender flowers may be used in cooking.
References
Resources