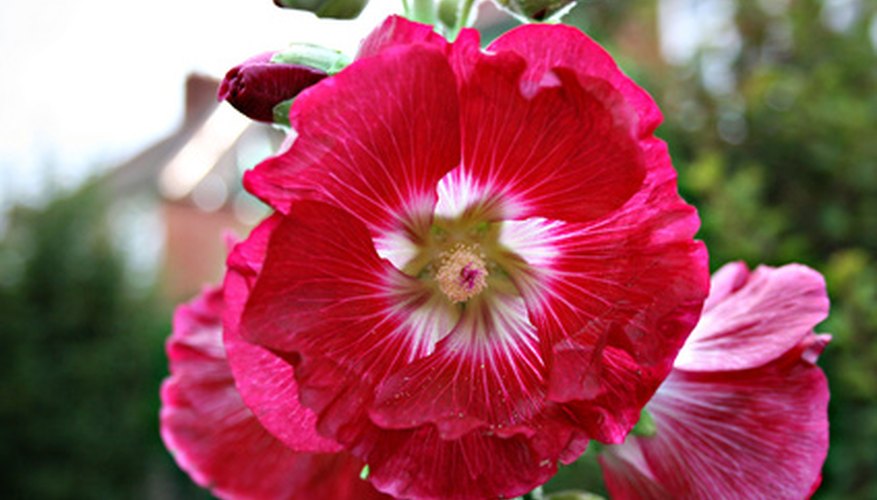 Masses of hollyhocks with their brightly colored flower spikes are striking against the dullest wall or fence in summer. Hollyhocks are short-lived perennials that bloom best their second season and then usually decline. Fortunately they produce copious seeds and will sometimes even reseed themselves for years and years if they like the place they are growing. The best way to propagate hollyhocks is by seed, and you can easily collect and save seed from your favorites by following a few simple guidelines.
Identify the hollyhock plants from which you want to save seeds by marking them with a small piece of survey tape while they are still blooming in the summer. Write the name or color of the flower directly on the tape, so you'll remember which variety is which later on.
Return to the hollyhock plants in early fall, and look for ripe seed capsules. Look for dry, brown, papery capsules that have begun to split open at the top. Collect only brown capsules; the soft green ones are not mature enough to be viable. Wear gloves and remove the capsules from the stalk by snipping them with pruning shears or twisting them off with your hands.
Use the permanent marker to label a paper bag with the variety or color of hollyhock, and then fill it with the seed capsules you collect.
Pour out the contents of each bag onto a large cookie sheet in a sheltered place, and remove the disc-shaped seeds from the pods with your hands. Separate the seeds from any other pod material or debris. Discard any seeds with holes in them made by insects to protect the rest of your harvest.
Label paper envelopes with the date, color and variety, and then add the cleaned seeds. Store the envelopes in a cool, dry place.