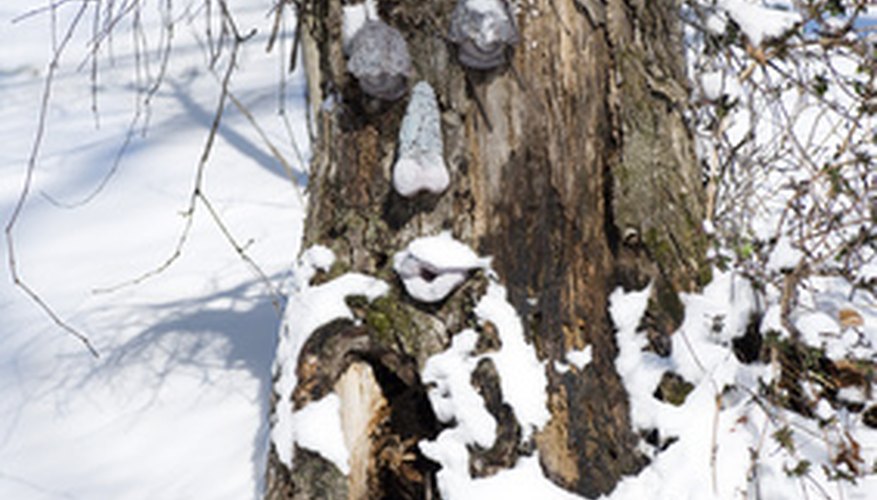 Once a tree becomes diseased or damaged, your yard can quickly turn from an oasis to an eyesore. This is particularly if a large tree stump is left behind during the removal process. But an eyesore can be quickly turned back into an asset with a strategic combination of decorating and landscaping.
Carving
Chainsaw carving combines working with a chainsaw and the art of woodworking. Chainsaw artists frequently advertise their services through professional organizations such as the United Chain Saw Carver's guild. Hire a chainsaw sculptor to sculpt your stump into a variety of forms, including human beings, decorative pillars or furniture. The larger the stump, the more creative the carver may be in their sculpture.
Bird Feeder or Planter
A tree stump can become a natural attraction for wildlife if you hollow it out and use it as a bird feeder. To hollow a dead stump, use a router and drill to create a depression in the top of the stump. The depression can be filled with birdseed or water to attract wildlife, or potting soil and cascading plants such as petunias or morning glories as a natural container that blends into the landscape. A tree stump may also make a good pedestal for a container plant. Select a large container that will cover the top of the tree stump. You can further disguise the stump and save effort on watering at the same time by grouping containers around the stump. Or you can hide the stump by planting tall flowers such as four o'clock, daisies or purple coneflower around the stump.
Trellis
A dead tree stump can also create a natural trellis for vine plants or climbing plants such as wisteria or climbing roses. Because the tree is already dead, you can attach sturdy fencing spikes to serve as anchors for heavy rose canes or woody vine plants. Tree stumps will also make good anchors for climbing vines such as clematis. You can create an unusual planter by attaching hanging plant pockets to the sides of the tree. Fill these pockets with potting soil and flower annual transplants. The flowers will cover the surface of the tree as they bloom and fill in the area.