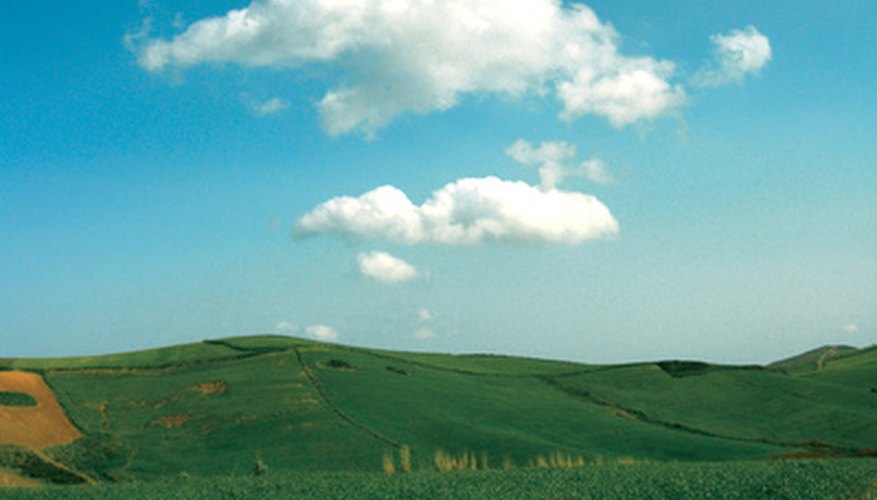 We are so used to clipped lawns that sometimes its easy to forget how high grass can really grow given the right conditions. There are many species of grass that can reach heights of 10 feet or more if left to their own devices, and these long grasses are often quite easy on the eyes. Types of long grasses that grown together in a field or yard create texture and movement that is a welcome return to nature.
Big Bluestem
One of the original tall-growing prairie grasses of North America, Big Bluestem (Andropogon gerardii), also called Turkey Foot Bluestem, is a bunching perennial grass notable for its three-pronged "turkey foot"-shaped flowering stalks. Reaching heights of up to 10 feet in perfect soil and sun conditions, Big Bluestem is a giant grass that has a greenish-red sheen to it. Big Bluestem is the official prairie grass of Illinois, and easy to grow in full-sun conditions in almost any soil type.
Switchgrass
Reaching heights of between 3 and 6 feet, Switchgrass (Panicum virgatum) is a spreading warm-season perennial clumping grass that is enjoyed for its thick, lustrous blades. Native to the American Midwest, Switchgrass is adaptable to a variety of soil types and prefers a good amount of sun every day. Switchgrass is often used for erosion control, pastures or as a moderately tall-growing ornamental grass to be used near ponds or as a backdrop for other plants.
Giant Miscanthus
Giant Miscanthus (Miscanthus 'Giganteus') is a tropical, ornamental plant native to Japan and Taiwan. The clumping plant can reach heights of up to 15 feet, spreading out 8 feet wide. Giant Miscanthus produces attractive silvery plumes in late summer or autumn. The plant requires full sunlight and will topple over if planted in too much shade. Giant Miscanthus prefers well-drained soil, although it will tolerate slightly moist soils as well.