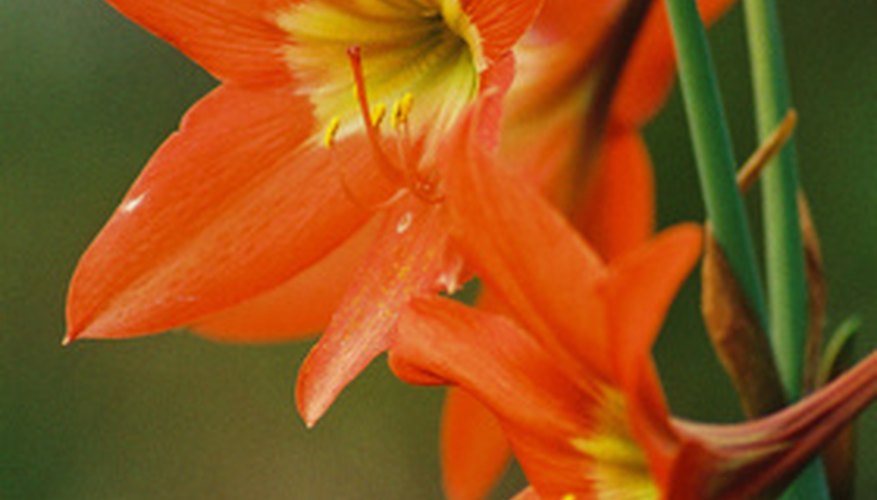 Landscapers prize the amaryllis plant--also known as the naked lady or the belladonna lily--for its lush green foliage and its brightly colored flowers. The plant grows from bulbs measuring 2 to 4 inches in diameter, according to the University of California, and new bulbs will grow off the original bulbs you planted. Divide the amaryllis bulb clump every fall to give the original bulbs room to grow while also providing new bulbs to expand your amaryllis collection.
Dig out the clump of amaryllis bulbs. Use a spade or a pitchfork. The University of California recommends the latter, since it's less prone to damaging the bulbs' roots.
Break up the clump of bulbs with your hand. The amaryllis bulbs in the center are the original bulbs you planted and will be the biggest, according to North Dakota State University. Separate the largest bulbs from the smaller bulbs.
Cut off any dead, wilted or yellow leaves or stems attached to the bulbs, using pruning shears. Don't prune off any green leaves or stems.
Amend the original planting site. Use a spade and break up the soil into fine clumps, then mix in 3 to 4 inches of aged manure or compost. Do the same for any additional planting sites you want to populate with the new amaryllis bulbs you've broken off the clump.
Replant the biggest bulbs back into the original planting site and the newly separated bulbs wherever you wish. Bury each bulb approximately 1 to 2 inches below the soil surface with the rooted end pointing down. If you're planting several bulbs in the same location, separate each bulb by approximately 8 inches, according to the University of California. The university recommends burying three bulbs in each planting site for maximum coverage.