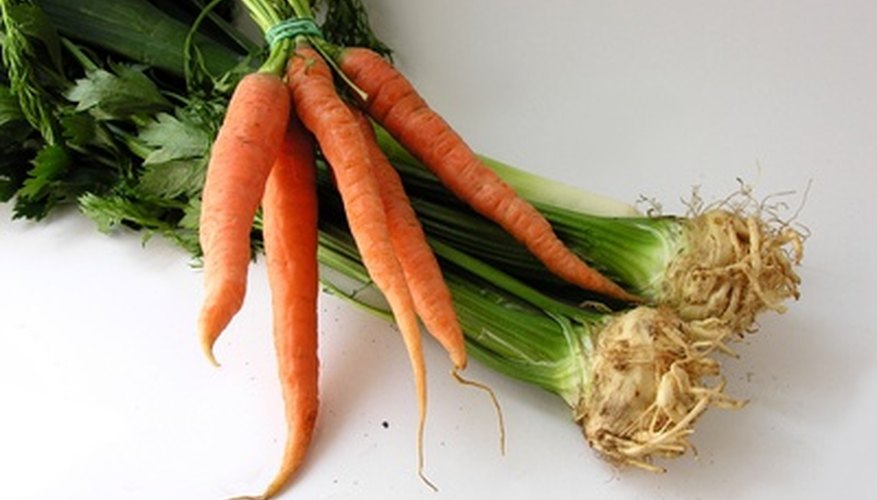 Texas gardeners are often confronted with poor soil with high clay content, high soil pH in West and Central Texas, limited space in urban locations like Dallas and Houston, or too much shade in heavily treed East Texas. You can solve many of these problems by growing vegetables in containers. Vegetables that grow well in containers include salad greens, cold-weather crops such as carrots and beets, and bush varieties of summer squash, tomatoes, peppers and eggplant. Container vegetables can have longer growing seasons than traditional gardens because you can move the plants to protect them as needed.
Select containers for your vegetables. Just about any container can be used as long as it has proper drainage and is large enough for the root ball of the vegetables being grown, according to Texas A&M University.
Clean the containers thoroughly to remove soil, dead vegetation and any organic or chemical residues. Use soap and water with a small amount of bleach to remove chemicals and oils from the container. Rinse several times to remove the soap and bleach.
Fill containers with either a soil-based growing medium or a soiless one, made from vermiculite, perlite, peatmoss, phosphate and fertilizer. Potting soil developed for vegetables is fine and holds water better than soiless mixtures, but the soiless mixtures are lighter in weight and free of diseases or weed seeds.
Add composted cow manure if using a soil mixture.
Plant vegetables in the containers by centering large ones such as tomatoes and evenly distributing seeds or small seedlings such as lettuce, radishes and carrots in the pot.
Mulch the plants with shredded bark, cypress or pine mulch to retain moisture.
Place the filled container in a location that receives full or filtered sun, depending on the needs of the plants. Texas planting dates for containers can be two to three weeks earlier and later than traditional gardens because you can move the plants to shelter, if needed.
Water the container plants thoroughly the first week. Add more water when the soil is dry at 1 inch deep. Containers dry out more quickly than bedded vegetables, so in the Texas summer heat, daily watering may be necessary.
Add liquid fertilizer every four weeks at the manufacturer's suggested rate.
Monitor the plants for signs of disease or insect attacks and treat as needed.