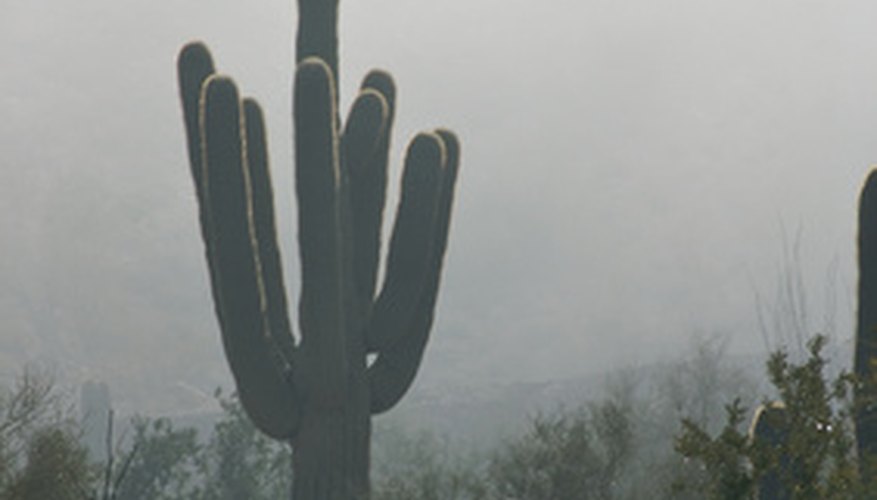 Searingly hot, parched desert landscapes might seem like the last places where plants would thrive. A wide range of desert plant species, however, does exactly that. Succulent cacti store rainwater in their pads and branches, while trees, shrubs and ground covers save energy by blooming only in cool seasons or after rainfall. Using appropriate desert plants in your xeric landscape will conserve water, provide wildlife with food and shelter, and bring welcome color and shade.
Saguaro Cactus
The saguaro cactus (Carnegiea gigantea) is a majestic plant that reaches up to 50 feet in height. An exterior framework of flexible rods supports the thorny saguaro, which can live 250 years. Branches appear after it reaches about 15 feet at age 35. The saguaro grows on southern Arizona and California's desert flats and slopes. Shallow roots trap rainwater for storage in the trunk and branches. May and June clusters of flat, 3-inch yellow-centered white flowers open at night. Edible fruit feeds birds and small mammals. Buying or transporting this protected plant requires government permission, cautions the Lady Bird Johnson Wildflower Center (LBJWC).
Desert Willow
Desert willow (Chilopsis linearis) is a tree of the south central Texas, northern Mexican southern California deserts. Growing 15 to 40 feet high, it has willow-like, light green leaves and a twisted trunk. In spring and after summer rains, its drooping clusters of fragrant white, pink or purple flowers appear. Long seedpods remain on the trees after the blooms. Plant desert willow in well-drained, limestone-rich soil and full sun. For maximum bloom, let it dry out between waterings, advises the LBJWC.
Desert Sand Verbena
Desert sand verbena (Abronia villosa), a mat-forming plant up to 6 inches high and 20 inches wide, grows in the southern deserts of Arizona, California and Utah. Sticky hairs cover its succulent green leaves. Between February and July clusters of fragrant, vivid pink flowers rise on stalks above the leaves. The LBJWC recommends it as a ground cover in dry, sunny well-drained locations.
California Fan Palm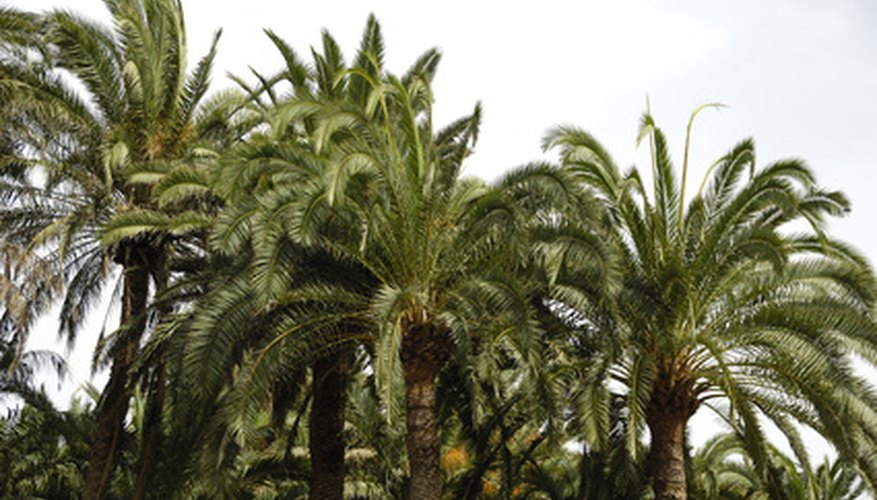 California fan palm (Washingtonia filifera), native to the Palm Springs desert, reaches to 50 feet. Its 3-to-6-foot gray-green leaves form a thatch on the trunk when they die. New leaves hang from thick petioles (flat leaf stalks). June brings white flowers with small black fruits following. The only western palm, it's a popular ornamental. Plant in full sun and moist, alkaline soil, says the LBJWC.
Flame Acanthus
Flame acanthus (Anisacanthus quadrifidus, a 3- to 5-foot flowering shrub, grows in the south-central and west Texas deserts. Peeling bark, brilliant orange-red blooms from June to October, and attractive pale green leaves make it a popular ornamental, says the LBJWC. Drought-tolerant, it grows in pots and also accepts trimming as a hedge. Plant it in sun to part shade and well-drained sand, loam or clay. Its flowers attract hummingbirds and butterflies.