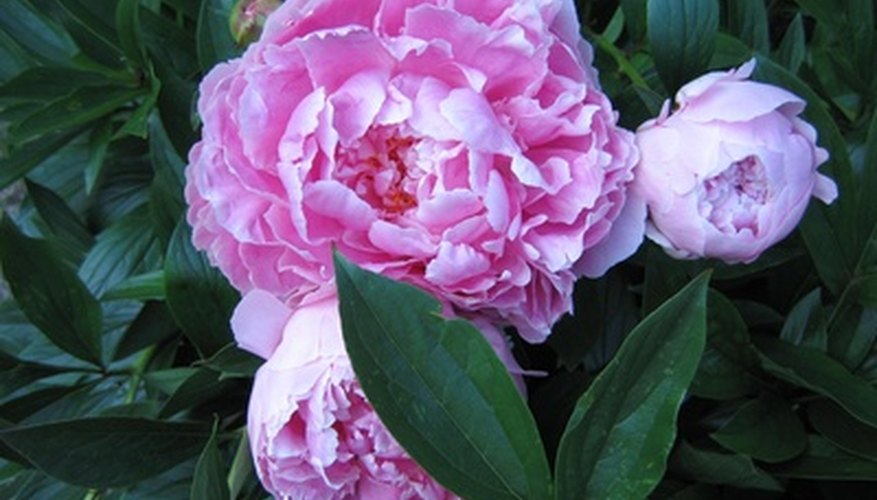 Peony (Paeonia x hybrid) is a perennial with foliage clumps reaching 2 to 4 feet tall and may need extra support to stay upright. Black, coral, cream, crimson, pink, purple, rose, scarlet, white or yellow large blooms appear in spring. The fragrant blossoms are used as cut flowers, and the leaves provide a background for shorter flowers. Peonies thrive in USDA plant hardiness zones 2 to 8. Plant in September and October to produce blossoms the following spring. Spring-planted peonies may not flower the same year. The best flower results come from root divisions with three to four eyes.
Clear the brush, weeds, grass and debris from an area with full sun to light shade exposure. Peonies are susceptible to wind damage, so pick a site protected from strong winds.
Loosen the soil to a depth of 18 inches deep and 36 inches wide with a shovel. Spread a 2- to 4-inch layer of peat moss on top of the soil. This improves the drainage and organic material content of the soil. Work this in by turning the soil over with the shovel. Rake the soil smooth.
Dig a hole 18 inches deep and 18 inches wide. Add a 2- to 4-inch layer of compost, pine bark or well-rotted manure to the bottom of the hole. Add 1/2 cup of 10-10-10 balanced fertilizer and 1/2 cup bone meal to the hole. Fill the hole half full with soil and mix the soil amendments in well.
Check the peony roots for rot. Trim away any soft spots with a sharp knife. Lay the peony root in the hole so that the eyes or buds are facing upward. Adjust the soil level in the hole so that the top of the root structure is 2 inches below the surface.
Fill the hole the rest of the way with soil. Plant the rest of the peonies 36 inches apart so there is room for the roots to spread. Water the planting area for 15 minutes.
Things You Will Need
Shovel

Peat moss

Rake

Compost

Fertilizer

Bone meal

Peony roots

Sharp knife

Water
Tip
Winter cold is needed for the rest period of peonies. This perennial will not flower in subtropical areas unless dug up and chilled in a refrigerator.
Warning
Peonies suffer cold damage in areas that drop down to -20 degrees F when there is no snow coverage. Fall mulching in these areas will protect the peony roots.