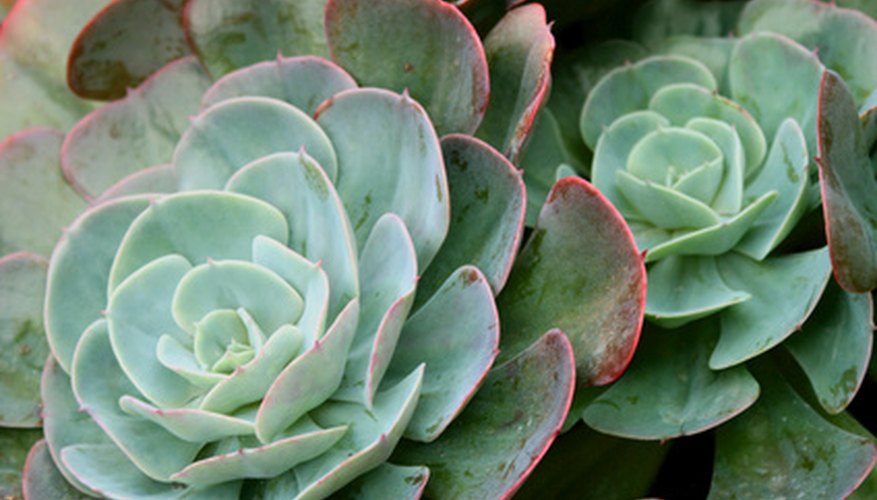 Dry desert climates produce an interesting array of flora known as succulents. Succulents, or fat plants, retain water to stay healthy in poor climates and soil conditions. Several varieties of succulents exist such as aloe vera, agave, aptenia and delosperma, among many others. Making a succulent floral bouquet at home is just as easy as making any other type of floral arrangement, and the addition of these water-retaining and interesting-looking plants will add a touch of the extraordinary to your crafts.
Select two or three large succulent blooms, such as lithops, for the central point of the arrangement. Delicate succulent flowers also include borage, which produce pulpy yellow blooms.
Choose an array of accent flowers to accommodate the succulent arrangement and foliage such as English ivy and alyssum creeping flowers.
Pick a receptacle in which to arrange your succulent and accent flowers. A large fish bowl, shoe-box, wire or wicker basket or a large vase make for excellent choices for any decorative arrangement.
Line the base or receptacle of the floral arrangement with a substrate of your choice. Substrates include loose gravel, shredded paper, tinsel, soil or foam. Line the base with approximately a pound of substrate.
Arrange the central flowers first, by placing them in the center of the arrangement base.
Place various accent flowers and foliage pieces strategically around the central succulent flowers to create your own decorative flow.