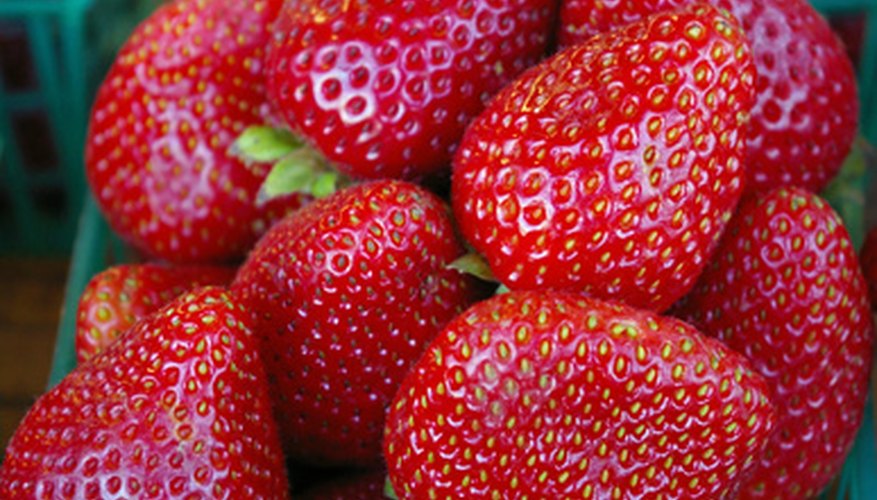 Cincinnati's long hot summers make the city an ideal region for growing strawberries. Strawberries grown from seed and June-bearing varieties don't fruit until the second season, so to ensure harvest in the first season, it's best to buy day-neutral seedlings from a local nursery. Most strawberry varieties are suitable for growing in Cincinnati, even cold season types like "Alpine," which can go in the ground in late summer and yield until the first hard frosts.
Choose a well-drained spot in the garden that gets at least six hours of full sun during the day. Strawberries are low-growing, which makes them prone to rots and fungal infections if they sit in standing water. These plants are sensitive to strong winds, so make sure they are in a sheltered location.
Prepare the soil. Turn it well to a depth of 8 inches with a shovel or digging fork, and add peat moss if soil drainage is poor. You can also grow strawberries on hills or in containers or raised beds if drainage is a problem. Mix in compost or aged manure, which will improve the soil and fertilize the plants.
Start your strawberries when the soil is moist and the last chance of hard frost has passed. In Cincinnati, strawberries are usually planted in late March or early April when trees start getting new leaves.
Select strawberry varieties suited for Cincinnati's climate. The Ohio State University Extension Service recommends the June-bearing varieties 'Earliglow,' 'Redchief' and 'Redway' for medium or large berries that are good eaten fresh. 'Tribute' and 'Tristar' are day-neutral varieties suitable for the region.
Plant June-bearers 12 to 24 inches apart, and space day-neutral varieties 8 to 12 inches apart. Dig planting holes deep enough that the roots can go straight in vertically. Place the seedlings in the holes, cover the roots completely and pack the soil around them. Make sure the crown between the stems and the roots sits on top of the soil.
Pinch off the first blossoms as soon as they start to appear. This will encourage healthy growth in the plants before they turn their energy to fruit production. Remove the blossoms on June-bearing varieties for the entire first season. On day-neutral plants, stop pinching off the blossoms until the middle of June. You can expect fruit from these from August through October.
Keep the beds clear of weeds, and water the plants only when soil becomes very dry from lack of natural precipitation. This will help discourage disease and weeds.
Prepare the plants for winter by trimming off the leaves and stems to just above the crowns, and cover the plants with several inches of mulch. Remove the mulch in late spring when the last hard frosts have passed. Make sure the soil stays moist during the winter--strawberries are still growing during this time and producing runners that will become daughter plants the following season.