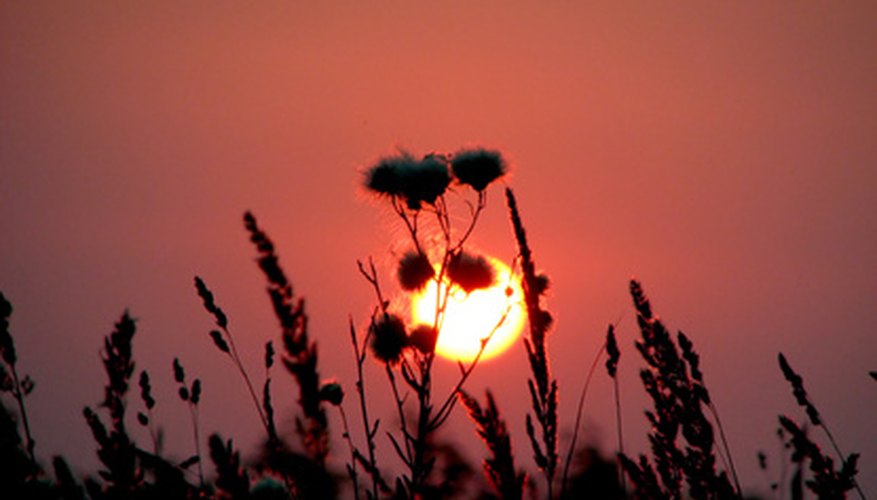 Perennial flowers are a joy to the gardener, bringing back blooms each year that are both new and familiar. While many people dote on perennials that bloom in the spring, announcing the change of seasons, many also insist upon perennials that can pull their weight throughout the summer months. There are many stunning perennial flowers that will produce blooms all summer.
Scarlet Hibiscus
Native to the swamps, marshes and riversides of the American South, scarlet hibiscus (Hibiscus coccineus) is a striking shrub that produces star-shaped leaves and large, showy scarlet blooms. The flowers of the plant will grow all summer and into autumn. The water-hungry plant is ideal for gardeners with a pond or small stream, as the hibiscus can be planted right at the water's edge. Scarlet hibiscus grows best in moist soils in full sun locations.
Purple Heart
Purple heart (Tradescantia pallida) is a sprawling ground cover perennial native to eastern Mexico. Offering both fantastic foliage and lovely delicate blooms, purple heart is a popular perennial for warm weather gardens. Purple heart is notable for its deep purple foliage and pale pink three-petaled flowers, which will bloom constantly during the warm spring and summer months. Purple heart is drought tolerant and prefers full sunlight. The plant will grow in sandy, well-drained soils.
Coral Plant
Coral plant (Russelia equisetiformis), also commonly referred to as firecracker plant, is a wiry perennial shrub that produces columns of brilliant red "firecracker" shaped flowers. The plant has an incredible bloom period, with flowers lasting all the way from spring until autumn. Originally native to Mexico, coral plant thrives in full sunlight or partial sunlight in soils that are nutrient-rich and well-drained. The coral plant is excellent for bringing wildlife to the garden, as the plant is highly attractive to hummingbirds and butterflies.