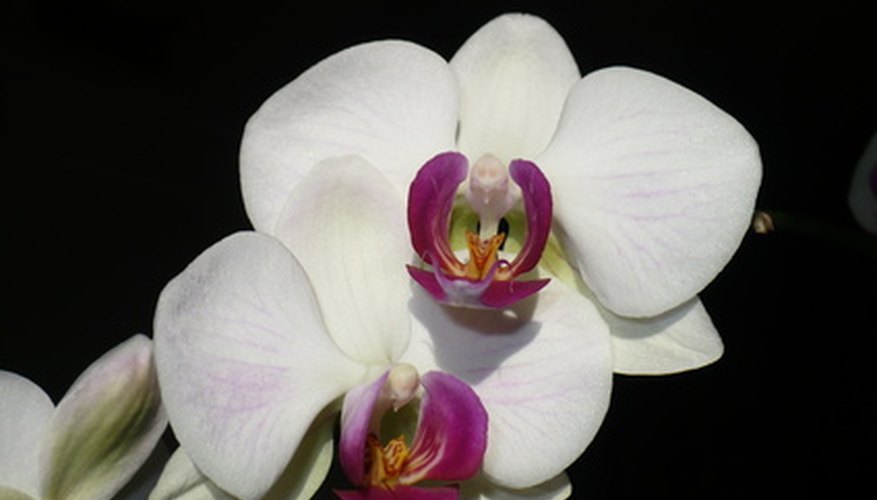 Exotic and unusual, orchids are known for their striking and colorful flowers. Two main groups of orchids exist, terrestrials and epiphytes. Terrestrial orchids grow in the ground and in a wide range of locations while epiphytic orchids are native to the tropics and enjoy clinging to rocks and tree branches. Tucked into a flowerbed, orchid look-alikes keep friends and family guessing.
Bristly Locust
Bristly locust (Robinia hispida) is a deciduous plant with a spreading form and pale pink flowers that resemble an orchid. The pink pea-like blooms grow on 2- to 4-inch pendant racemes attached to bristly stems that dangle down to create a showy garden display. Blooming from late spring to early summer, bristly locust grows 6 to 10 feet tall. The blue to green leaves on bristly locust are composed of 7 to 13 leaflets to contrast with the pale pink blooms. Drought-tolerant, bristly locust leaves cast a yellow tinge in fall for a burst of color to the garden. Bristly locust requires full sun and grows in a wide range of soil types, including dry and poor soil. The U.S. Department of Agriculture hardiness zones for planting are 5 to 8.
Indian Shot
Indian shot (Canna 'Centenaire de Rozain-Bourcharlat'), a canna variety from the 1920's, is a perennial flower with a clumping growth habit and bright pink flowers that recall an orchid. Growing 3 to 6 feet tall, Indian shot attracts hummingbirds to the garden to create the quintessential garden feel. Indian shot has bronze to green foliage and is an ideal orchid-like variety to add height and color to the back of a perennial bed. To promote a long flowering season, deadhead or remove the spent blooms as soon as they are noticeable. Indian shot requires full sun and fertile, well-drained soil. The zones for planting are 8 to 11.
White Crested Dwarf Iris
White crested dwarf iris (Iris cristata alba) is a perennial plant with white orchid-like flowers that are fluted with a yellow crest shooting up the base of each petal. Growing 3 to 8 inches tall and 1 foot wide, white crested dwarf iris have short dark green leaves that shoot up the flower stalk. Spring-blooming, white crested dwarf iris is ideal flanking a garden walkway or lining a front border for low growing color. White crested dwarf iris requires full sun to part shade and well-drained soil. The zones for planting are 6 to 9.