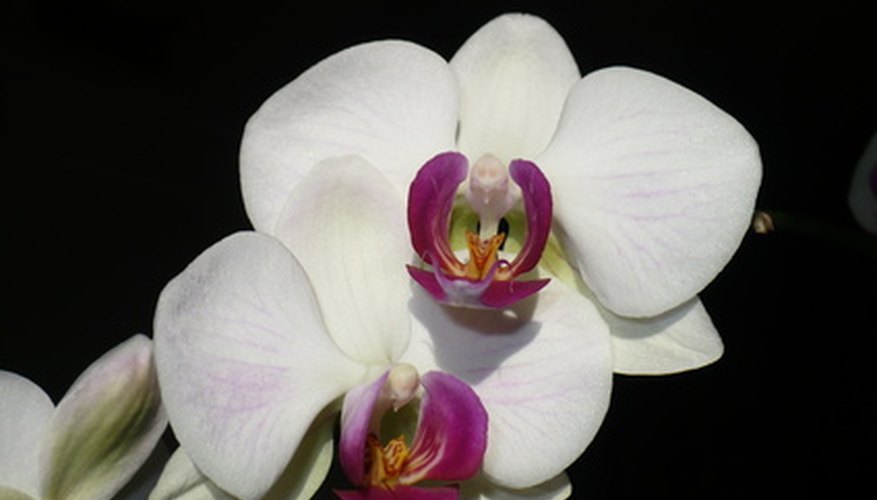 With a variety of exotic looking blooms, orchids have delighted the senses for ages. Part of the allure of these beautiful plants is their ability to grow virtually in mid-air. Epiphytic species require bark-based potting medium to rest their roots on, while terrestrial varieties prefer a soil-based mixture. Create these potting soils at home for successful indoor orchid cultivation.
Blend an epiphytic orchid potting medium by combining five parts fir bark, one part perlite (a component that aids in drainage) and 1 oz. dolomitic limestone per 4 gallons of mix.
Mix terrestrial potting medium by soaking osmunda tree fern fiber in water 12 hours in advance.
Combine the fiber with one part redwood bark and 1 oz. dolomitic limestone per 4 gallons of mix.
Add a 10-10-10 liquid fertilizer every six weeks after potting the orchids. University of Georgia Cooperative Extension experts suggest that fir bark–based mixtures present an exception, requiring 30-10-10 rate fertilizer at the six-week mark after planting your orchid.
Store the potting mix in a tightly sealed container or use immediately.
Things You Will Need
Orchid plant

Fir bark

Perlite

Dolomitic limestone

Osmunda tree fern fiber

Redwood bark

Liquid fertilizer

Storage container
Tip
Epiphytic orchids include the popular Phalaenopsis (moth orchids), while Paphiopedilum (ladyslipper orchids) are widely grown terrestrial orchids.