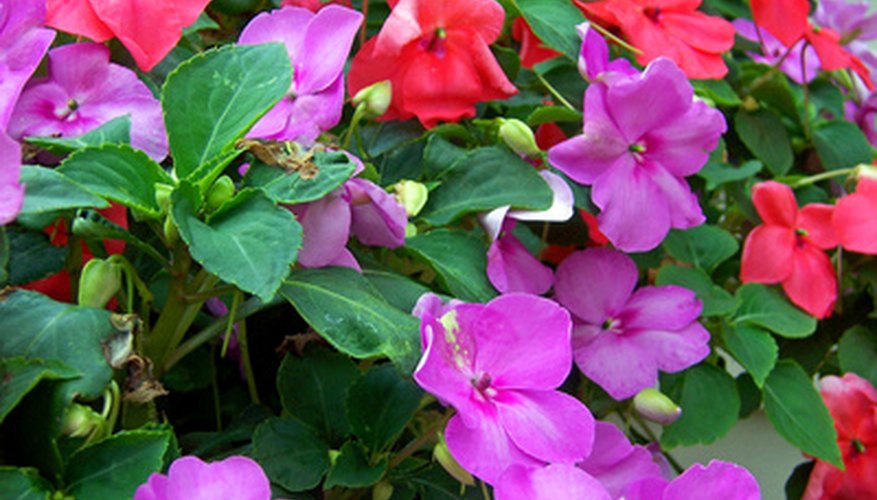 There is no reason that every corner of your yard or garden cannot be filled with color and interesting foliage. Shade-tolerant plants allow you to achieve just that. Shade-loving plants are not always as flashy as their full-sun counterparts, as their beauty tends to be more subtle. Many of these hardy plants are also tolerant of poor conditions, unlike fussy full-sun plants that require intense maintenance. Assess the amount of shade your plants are likely to receive before you begin. Some plants do well in dense shade, while others require some sun to survive.
Annuals, Perennials, Bulbs
Annual flowers that happily endure shade include impatiens, salvia and wax begonia, while coleus livens up the darkness with red and green foliage. Impatiens come in a range of bright colors and varieties, ranging from low-growing plants to varieties that grow more than 2 feet tall. Try perennials such as bleeding heart and columbine for flowers and hosta for texture, eye-catching leaf mass. Hostas prefer light shade and develop a spray of funnel-shaped flowers.
According to the University of Minnesota Extension, spring bulbs often do well in partial shade because they appear before the trees have the opportunity to leaf out, giving them more light. The extension service advises that these bulbs need to be treated as annuals when planted in deep shade.
Trees and Shrubs
Paw paw trees will thrive even in heavy shade, as will American hornbeam and Allegheny serviceberry. For a flowering tree, try one of the dogwood varieties. The staghorn sumac has a sculptural shape and large flower cones that attract butterflies. When it comes to shrubs, viburnum offers fragrant flowers and fall berries, while oakleaf hydrangea has attractive bark. Clemson University Extension suggests that barberry makes a good hedge and can handle most soil types.
Ground Covers, Herbs and Vegetables
Gardeners may have the most options when it comes to shade-tolerant ground covers. Wild ginger is an option that is not invasive. Lily-of-the-valley has a delicate arch of white hanging flowers and an aggressive spread. Periwinkle has a shiny, deep green leaf and pastel purple flowers. Ground covers can disguise a large patch of ground where few other items grow, filling in bald patches. Many herbs--from basil to sage and mint--enjoy the shade. Leafy vegetables and cool-weather crops also prefer a bit of shade. Some examples include lettuce, chard and kale. Putting these plants in a less desirable spot frees more garden space for vegetables that need extra light. For fruits, blackberries and raspberries can hold their own under some trees, unfazed by competition from the roots.