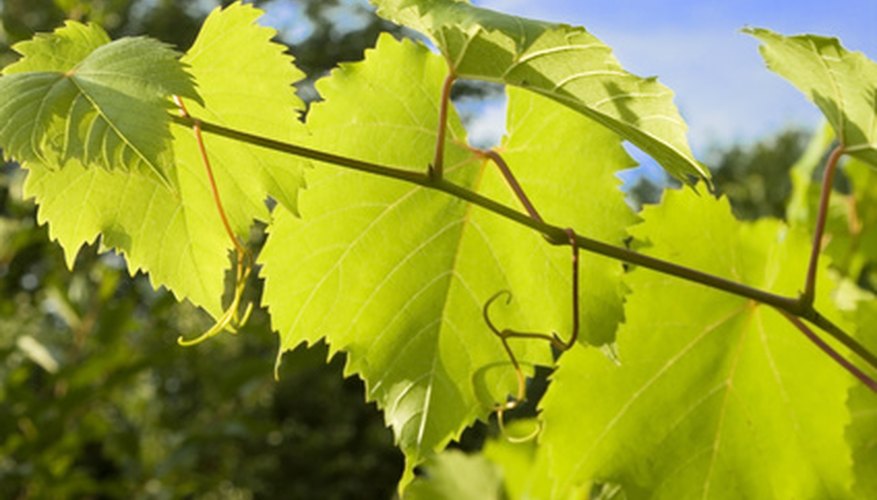 Grapevine cuttings taken in the fall transform into new grape vines for spring planting with proper treatment. In two to three years, the new grape vines grow and establish themselves for grape production. Proper care and pruning pay off, as the vines will yield fruit for many years to come.
Make cuttings 6 to 8 inches long from the previous year's growth while the grapevines are dormant. Make the bottom of the cutting directly below a bud and the top of the cutting 1 to 2 inches above a bud. There should be 5 to 6 buds on each cutting. Angle the top of the cutting to differentiate it from the bottom of the cutting.
Moisten peat moss or wood shavings so when you squeeze a handful your hand is damp but not wet. Lay out a piece of burlap or plastic, and spread a layer of damp peat moss or shavings. Lay the grapevines on the peat moss, lining up the cuttings so all the tops are together. Cover with another layer of peat moss or shavings. Wrap the cuttings by folding down the top of the burlap and then folding in each side and rolling the burlap to completely encase the cuttings. Tie the wrapped cuttings with twine to keep everything in place.
Dig a trench 3 inches deep in a protected area of the garden and lay the wrapped grapevine cuttings in the trench. Cover with soil, and mark the site to find the cuttings in the spring. Add 6 to 8 inches of mulch to protect the cuttings over winter.
Dig up the cuttings in the spring. Plant the cuttings 5 to 6 inches deep with the basal end down. Leave the top bud exposed above the soil line. Space the cuttings 5 inches apart. Water the cuttings thoroughly.
Allow the cuttings to grow for one season where they are planted. Mulch well before the first hard frost hits. The following spring, dig up the rooted grapevines and plant them in their permanent home in the vineyard.