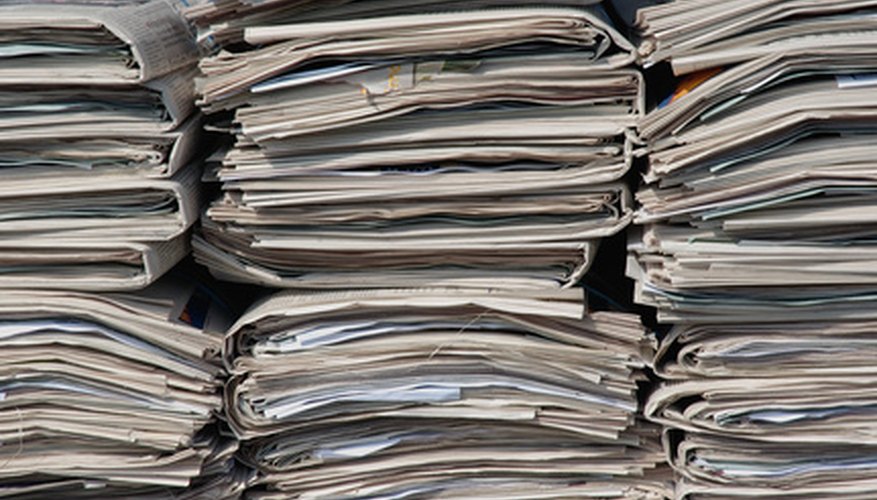 Newspaper is an affordable way to keep garden beds healthy and happy while recycling print that would otherwise end up in a landfill. Benefits of newspaper include helping the soil retain moisture while suppressing existing weeds by blocking out all sunlight to the garden. Not only is newspaper biodegradable, but it also adds organic matter to the soil. According to Virginia Cooperative Extension, lead in printers' ink has been a concern of some gardeners, but printers no longer use lead compounds in ink for black-and-white newsprint, though colored inks may contain lead.
Measure the flowerbed to determine how much newspaper is needed for the project. Remove all debris, including twigs or existing weeds, to prepare the flowerbed for the newspaper.
Only use black-and-white printed newspaper to ensure that lead does not seep into the garden soil.
Lay 2 to 4 layers of newspaper around the entire bed. Cut the newspaper to fit into small or awkward sections of the bed using garden scissors.
Use a garden hose and wet the newspaper to keep the paper in place and prevent it from flying away.
Cover the wet newspaper with 3 to 5 inches of organic mulch, such as hay or compost, to hold the newspaper in place and keep the soil cool and moist for incoming flowers.
Water the mulch with the garden hose to secure the mulch in place and begin the degradation process. Keep the mulch moist over the next 45 to 60 days to ensure proper breakdown of the newspaper.
Things You Will Need
Measuring tape

Black-and-white newspaper

Scissors

Garden hose

Organic mulch
Tip
Make sure the mulch does not dry out, preventing proper decomposition of the newspaper.