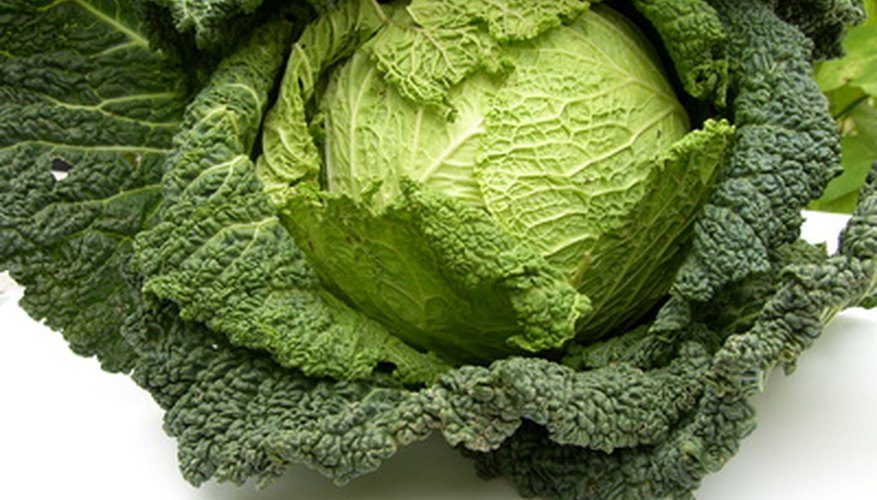 Buying ready-made cabbage seedlings gives you a head start on your gardening without the hassle of messing around with seeds. Vegetable starter plants typically are sold in grower flats, or cell packs, containing up to 12 plants. These convenient, small-quantity packages are good for the home gardener with limited space or culinary requirements. Cabbage transplants are available from local gardening centers and home improvement retailers in time for spring planting.
Water the seedlings thoroughly and begin hardening them off--allowing them to adjust to the outside--for several days before planting after all danger of frost has passed for your area. Don't allow them to dry out during this acclimation period. Nursery-grown baby plants may have never been exposed to harsh outdoor conditions. They'll need to gradually adjust to being outside full-time.
Set the cabbage starts out in a sunny spot protected from high winds early in the morning and bring them in before the sun gets high the first day or two. Leave them out until dusk for the following two days, and then outside all night thereafter. Move the cell pack to its future unprotected garden spot for a day or two just before planting.
Plant your cabbage starter plants when sunshine isn't prevalent. A cool, cloudy day or very late in the afternoon are good choices. Cultivate the soil 3 or 4 inches deep with a shovel in a fertile, well-draining location in full sun. Work in about an inch of well-rotted compost or manure.
Dig holes approximately the size of the plant's root ball, using a hand trowel. Pinch the bottom of a cell tightly to push the little plant upward while gently tugging on its stem to remove it from the pack. Position the seedling in the hole immediately. Firm the soil around the root ball so that the cabbage start is planted at the same depth it was in the cell pack.
Water the transplant with a liquid vegetable seedling starter fertilizer solution. Follow the packaging instructions carefully.
Apply 1 or 2 inches of organic mulch to the planting site. This will help retain moisture and discourage weed growth. Pull the material several inches away from the stems to prevent rot.
Water the cabbage starter planting site thoroughly so that the soil is evenly moist, but not soggy or wet.
Things You Will Need
Organic compost or manure

Shovel

Hand trowel

Liquid vegetable seedling starter fertilizer

Organic mulch
Tip
Select your cabbage starter seedlings carefully. Pick the cell packs up and check their undersides. Reject any with roots poking out of the holes in the bottom because the seedlings are root-bound. Inspect all the foliage surfaces of each plant for the presence of bugs or evidence of insect damage. If you see aphids or little white moths, don't buy from that supplier.