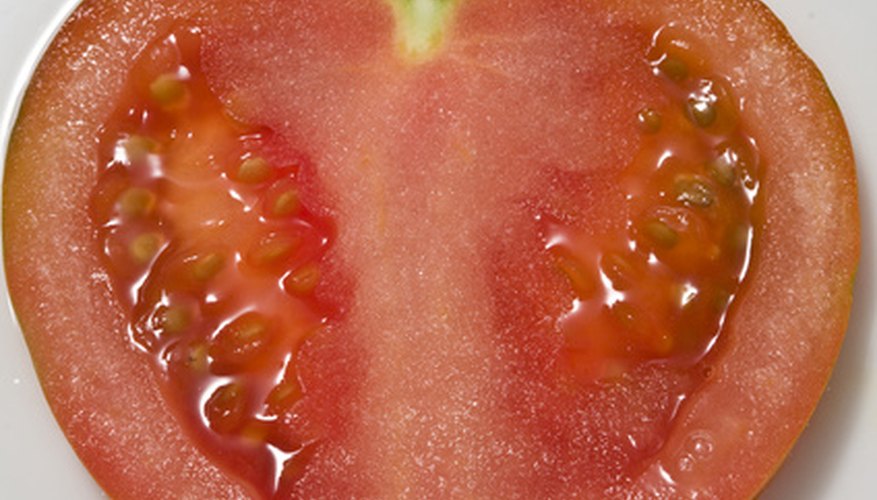 One of the most important things to consider when storing tomato seeds is tomato selection. Hybrid tomatoes, which make up the large majority of store-bought fruit and seeds, do not grow true to type. This means that planted seeds are unlikely to have the same characteristics of the parent plant. To avoid any unpleasant surprises, choose tomato plants that grow true to type and harvest them just after they develop their color, while they are still firm. Once collected and properly dried, freeze them to keep them viable for up to 10 years.
Harvest the tomato seed. The easiest way to do this is to slice off the bottom of the tomato then squeeze it over the cup to empty out the pulp and seeds. Or, if you plan to eat the tomato, slice it into quarters then scoop out the seeds with a spoon.
Cover the cup with plastic wrap and leave it to ferment for four days in an area that will remain around 70 degrees F for the duration. Shake the cup three to four times a day to agitate its contents.
Use a fork to scoop off and throw away any floating pulp and seeds (floating seeds are not viable). Then fill the cup with water a few times to loosen any pulp that still clings to the seeds at the bottom of the cup. Again, scoop off any matter that floats to the top. Then pour the seeds over the strainer and rinse off any pulp that still sticks to the tomato seeds (you may have to rub the seeds with your fingers to remove any stubborn pulp).
Mix a solution of 1 part bleach and 5 parts water. Submerge the cleaned seeds in the solution for two minutes. Then pour the seeds and bleach solution out over the strainer and rinse the seeds thoroughly with water.
Dump the seeds out of the strainer and onto a paper plate. Spread the seeds out with your finger so that none of the seeds overlap. Leave the seeds to dry indoors for two to four weeks in a spot where the temperature will remain between 70 and 85 degrees F. Stir the seeds around with your finger once a day or so to prevent them from sticking to the plate or each other.
Place the dried seeds into a freezer-safe storage bag. Add a pouch of silica gel desiccant to the bag to absorb any excess moisture. Remove as much of the air from the bag as possible before you close it.
Place the tomato seeds in the freezer for up to 10 years.