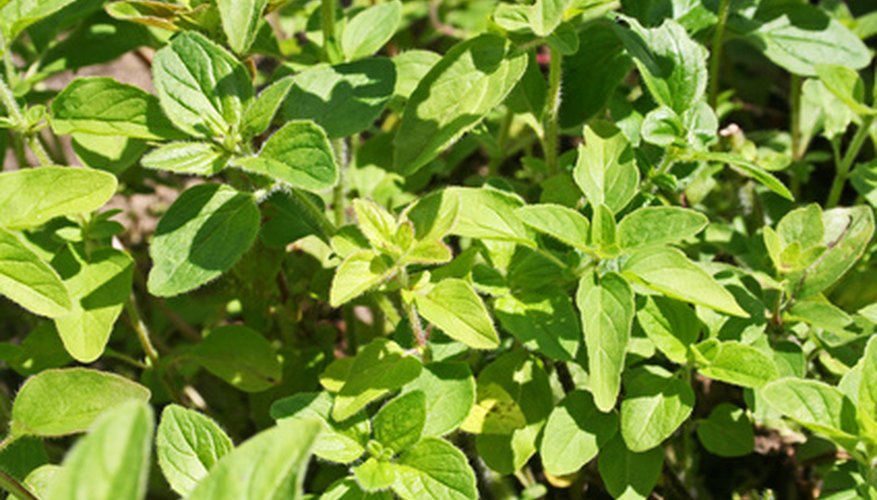 Oregano is a popular culinary herb with a spicy flavor that is used in a number of dishes, including pastas, pizzas, soups, salads and breads. Native to the Mediterranean, oregano (Origanum vulgare) is an easy herb to grow in the home landscape as long as the plant is exposed to plenty of bright sunshine. If garden space is at a premium, plant oregano in a container and place it near your kitchen door for easy harvest.
Plant oregano in well-drained soil and full sunshine. Although oregano can be planted by seed, as the flavor of seedling plants is undependable. Allow 10 to 12 inches between each plant. Oregano can also be planted in a container filled with commercial potting soil. Make sure the container has a good drainage hole in the bottom.
Water oregano lightly when the soil feels dry to the touch. Oregano is a drought-resistant plant and won't do well in wet soil. Containerized oregano should be checked often, as the soil in containers dries out quickly.
Spread an inch of organic mulch, such as bark chips or dry grass clippings, around the herb plant. Mulch will maintain an even soil temperature, conserve moisture and deter weeds.
Harvest oregano leaves to create a bushy, compact plant when the plant is about 6 inches tall, and continue to snip the leaves for use anytime thereafter. Leave two or three leaves on each stem so that the plant will continue to produce foliage.
Tip
To dry oregano, tie a bunch of stems together in a small bunch and hang upside down in a warm, well-ventilated place.