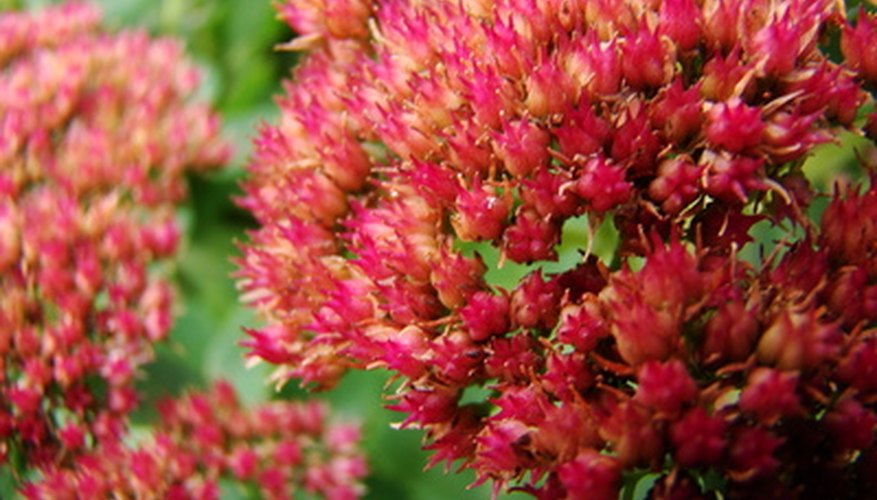 Sedums are perennial flowering plants with succulent foliage that bloom from late summer through fall. Also called "stonecrops," sedums come in a wide range of sizes and growth patterns. The Autumn Joy sedum grows 12 to 23 inches tall and 18 to 23 inches wide, blooming in large, deep-pink flower heads that attract butterflies. The flowers turn reddish-bronze during fall. The Autumn Joy sedum is commonly planted in borders and taller perennial flower beds, providing excellent fall flowering after most other perennials and annuals are finished blooming.
Water your Autumn Joy sedum deeply to thoroughly wet the soil around the plant once each week during summer. Water the sedum only when weekly rainfall is less than 1 inch.
Spread a 1-inch-thick layer of organic compost on the ground around the Autumn Joy sedum. On top, spread a 2-inch-thick layer of bark or wood-chip mulch to keep weeds at bay and preserve soil moisture.
Pinch back the Autumn Joy sedum's stems in June to encourage a bushier form and more erect stems. Cut the sedum stems back to 1 or 2 inches above the ground level after the first hard frost or freeze in late fall or early winter.
Divide your Autumn Joy sedums once every three or four years in spring, when new growth emerges. Dig up and lift out the entire root ball of the plant. Divide the plants and transplant the divisions in different areas.