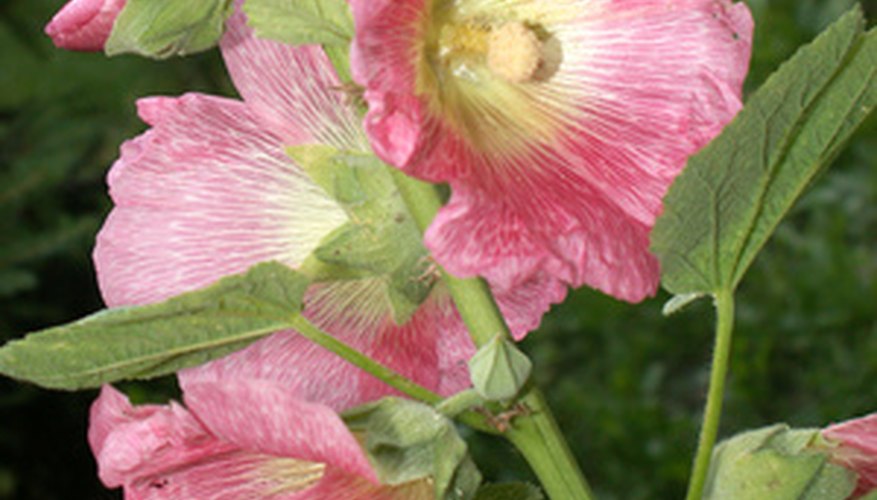 From Cincinnati to Youngstown, residents all over the state of Ohio can enjoy growing the tall beauty hollyhock (Alcea), a perennial that can reach 6 feet high when grown in the right conditions. Full of rich colors from white to peach to deep red, the hollyhock will bloom from June to August with multiple large flowers up and down its stalk. To plant hollyhock seeds in Ohio you'll want to wait until early summer when the ground and air have warmed after winter.
Select a full sun location for your seeds where the ground drains well but doesn't consistently stay overly dry. Typically hollyhocks are placed along fences or in the back of flower beds where it can be seen at full height and won't block the sun for shorter plants. The Ohio State University Extension recommends hollyhocks for attracting hummingbirds to the state's gardens.
Work the soil to dig and break it up 8 inches below the surface. Add a 3-inch layer of compost or garden soil over the bed area and blend it with the existing soil to create an equal mix.
Spread your seeds out over the bed area across the top of the soil surface. Add a thin 1/4-inch deep layer of compost or garden soil over the seeds to just barely cover them.
Wet the soil with a light mist or shower spray of water. You only want to dampen the soil and because the seeds aren't set deep, you'll want to avoid causing a runoff as this can carry your seeds away.
Water the bed regularly over the next month as the seeds begin to germinate and emerge from the surface. Keep the bed moist, but never saturated with water.
Thin the area to space each plant a foot apart from one another once they have reached 3 to 4 inches tall. You can either pull the unwanted plants up with your fingers, or dig them up carefully with a hand trowel for transplanting elsewhere in your garden.