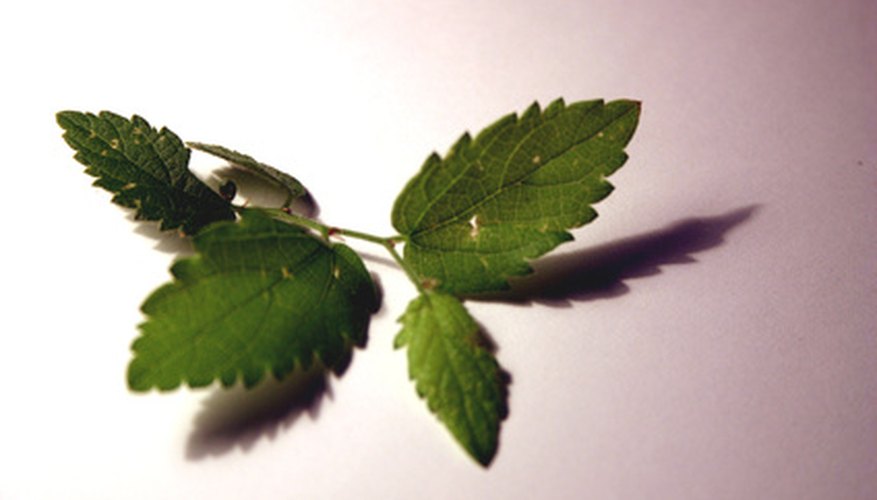 Gardeners commonly grow mint as an ornamental shrub or thick ground cover and also prize the plant for its fresh smell. The hardy nature of the mint plant lends it occasional invasive tendencies, and mint can turn into a weed if not controlled. Eliminate mint with a combination of physical and chemical controls to help eradicate the plant when it's growing in an area in which you don't want it.
Dig out the mint. This is ideal for upright mint plants like buddleia mint (Mentha longfolia) or small patches of ground-hugging mint like native pennyroyal (Mentha satureioides). Rake the ground post-removal, and make sure you removed all of the plant's underground roots, as the roots of some mint species will sprout into new specimens.
Mow the mint to the ground. This is ideal for large areas of mint. Use a lawn mower for even slopes and flat land, or a string trimmer for hard-to-reach areas like swaths of soil bordering a fence. Repeat every three to four days. Over time, the repeated mowing of the surface vegetation will starve the mint's underground root network and kill the plants.
Spray the mint with a broadleaf glyphosate-based herbicide. This kills the mint on contact and is ideal for those wanting to control large areas of mint with the least labor-intensive approach possible. Mist the herbicide onto all exposed surfaces of the mint plants. The mint will typically die within 10 days, depending on the specific herbicide used.