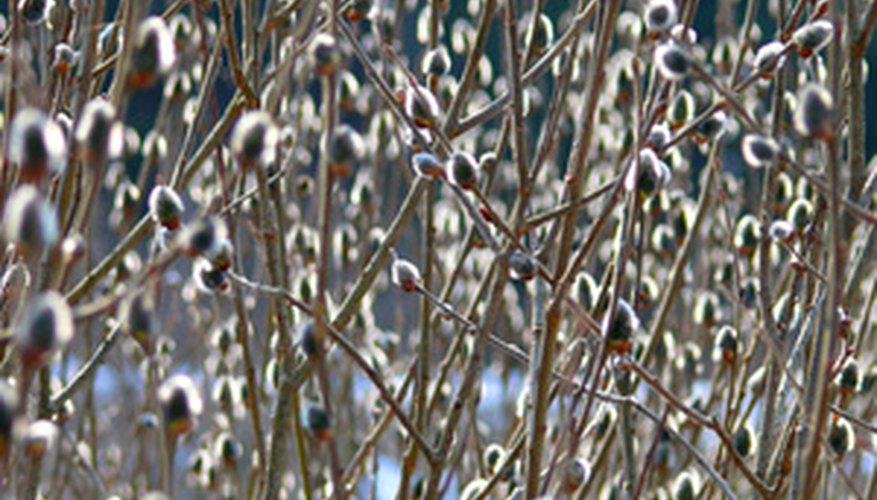 willow white willow spring tree image by Pali A from Fotolia.com
There are more than 300 different species of willows in the world with the majority native to northern temperate regions. A fast-growing tree, willows prefer moist soils. The trees are generally short-lived and are replaced by other trees that can tolerate its wet growing conditions. Three types of willow tree are commonly found in Ontario, Canada: shining willow, pussy willow and peachleaf willow.
Shining Willow
The shining willow is a small, shrub-like tree that reaches a height of 25 feet. Found in isolated wetland areas, it provides habitat for migrating waterfowl, according to "The Encyclopedia of North American Trees" by Sam Benvie. It has a short trunk with dark brown and red bark that is thin and smooth, and becomes slightly grooved as the tree ages. The oval leaves are 6 inches in length and shiny green, turning yellow, then purple in the fall. The roots are shallow and its fruit ripens in early summer.
Pussy Willow
The pussy willow is also considered a shrub or small tree with a maximum height of 20 feet. The tree is found in wet meadows, along rivers and streams and in swamps. The bark is gray and scaly and the twigs, which are harvested by florists, are hairless, according to "Eastern Trees" by George A. Petrides. The shiny green leaves are 4 inches in length with a white-green underside. The tree flowers from February to May.
Peachleaf Willow
The peachleaf willow, also known as the almond willow, grows to a height of 65 feet. Found mainly along creeks, the peachleaf is the largest willow west of the Western states, according to "The Illustrated Encyclopedia of Trees of the Americas" by Tony Russell, Catherine Cutler and Martin Walters. The bark is light brown and soft and its light green leaves are lance-shaped, growing to 4 inches. The tree flowers in the spring.