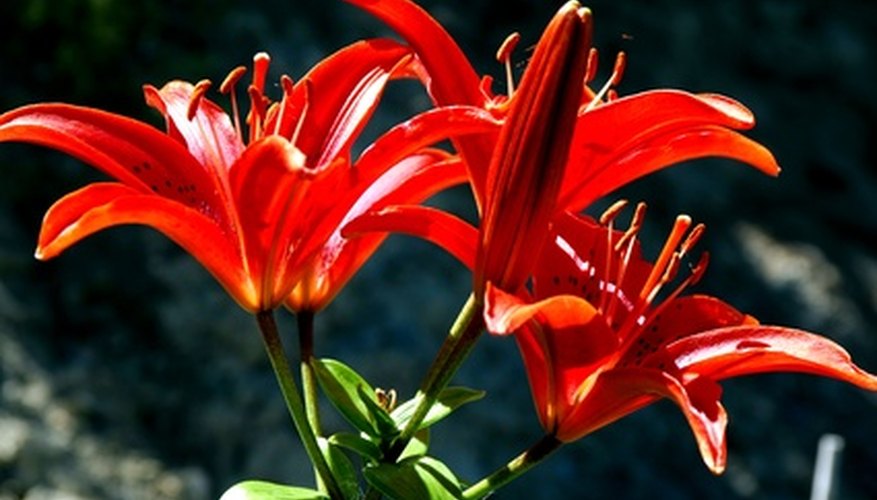 With a little planning, you can have Asiatic lilies blooming in your garden from May until the first frost of autumn. Asiatic lilies are available in a variety of colors from pastels to bright colors, and even multicolored speckles. Choose shorter varieties for the front of a flowerbed, or plant tall varieties as a backdrop for other summer bloomers. No matter what variety you choose, Asiatic lilies are attractive, easy-care plants.
Plant Asiatic lilies in autumn, between mid-September and mid-October. Bulbs should be planted in well-drained soil that has been amended with 2 to 3 inches of organic mulch such as decomposed animal waste, rotted leaves or compost. Plant bulbs where they will be exposed to full sunlight.
Water Asiatic lilies deeply once every week during the spring and summer. Always water early in the day so the foliage has time to dry before evening.
Spread 4 to 6 inches of organic mulch over newly-planted bulbs in autumn. Mulch such as dry grass clippings, pine needles or shredded bark will protect the bulbs from cold weather, and from repeated thawing and freezing. Remove the mulch after the last frost in spring. After the first winter, the bulbs will be established and won't need mulch unless you live in an extremely cold climate.
Feed the bulbs early every spring, using a 5-10-10 fertilizer. Always apply fertilizers according to the recommendations on the package label.
Apply a 1- to 2-inch layer of fresh mulch after the lilies emerge in spring. Mulch will keep the roots cool in warm weather, conserve moisture and deter weeds.
Things You Will Need
Decomposed manure, compost or rotted leaves

Organic mulch

5-10-10 fertilizer