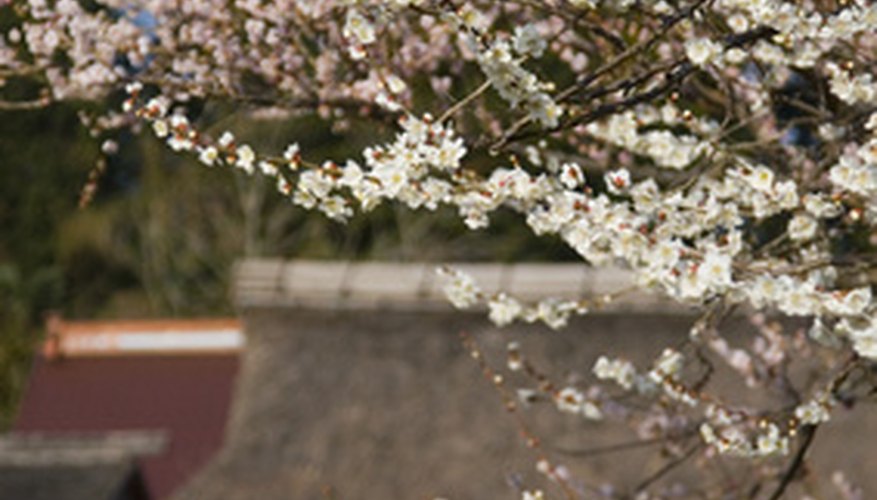 Japanese plum trees include a number of cultivars, including Shiro, Hollywood, Santa Rosa, Cocheco, Beauty, Early Golden, Obinaja and Methley. Like European plums, Japanese plums are best suited for United States Department of Agriculture (USDA) Hardiness Zone 4 through 9. Japanese plums do best in full sun and need moist soil that drains well. The fruit of the different Japanese plums includes orange, purple, yellow and red. Caring for your Japanese plums is not much different from caring for plums indigenous to other parts of the world.
Pinch off new growth in undesirable areas, such as below your main branches, throughout the growing season. If this is your Japanese plum tree's first season, this is all the pruning you should do after planting.
Prune at the end of winter. Prune your plum tree to create scaffold branches that rise upward at gentle angles from the trunk at around a 45 degree angle. Remove any deadwood on the tree. Try to keep the tree open so that sun can reach the inner leaves of the tree in the spring and summer. Some Japanese plums have a tendency to grow very long branches that can be beautiful when flowering. Whether you prune these back by cutting just above a leaf of bud junction is a matter of personal taste.
Mulch around the trunk to control weeds for the first five years. After five years, mulching is optional, but can be a good way to help keep water in the soil.
Fertilize your Japanese plum in the spring with a balanced 10-10-10 fertilizer. Use 1/2 lb. of fertilizer for every year of tree age. Do not use more than 6 lbs. of fertilizer.
Thin the plums in years when the tree overproduces plums by removing one-third to one-half of the plums to encourage growth and ripening on the remaining plums. Japanese plum production can be spotty, with copious amounts produced one year, and fewer plums produced other years.
Tip
If you allow long branches on your Japanese plum, you may want to support the branch with wood in years when the tree is producing a lot of fruit. They weight of the fruit might cause the branch of trunk to crack. You can remove the supports before and after fruiting.